Rebuild / Reconstruction Services of Old Field Erected (FEP) & Metal Factory Assembled (FAP) Cooling Towers | Cyrco, inc.

Cost-Savings Partial or Complete Rebuild / Reconstruction Services: Wood to FRP Fiberglass Conversions, Quality Replacement Metal Fabricated Parts, Heat Transfer Media Repacks, Installation of New Fan Assemblies, Gearboxes, Louvers, FRP Casing, Cased Wall Panels, FRP Decking, Water Distribution Systems, Stairway and Ladder Systems, and Much More . . .
Rusted and deteriorated structural members, hole riddled oxidized wall panels, fouled or deformed heat transfer fill media, or obsolete and non-available parts often causes our clients to believe that their old cooling tower must be completely replaced even though the cooling tower is structural sound and still operational. Sizing and spacing constrictions can cause the price tag of a new custom cooling tower to be exponential compared to a rebuild of the current cooling tower that utilizes existing parts and materials such as foundations, structural framing, ladders and safety railing, the water distribution system, electrical systems, and more. Cyrco's rebuild and reconstruction services of one or more sections of the cooling tower often equates to our clients saving tens-of-thousands of dollars (or more) when compared to the buying of a new OEM factory assembled cooling tower or the large scale construction of a new field erected cooling tower. Our rebuild and reconstruction services are usually the most cost effective solution with the end result being a reconstructed cooling tower that is optimized for maximum energy efficiency, long-term reliability, and rebuilt to outperform and outlast the original design.
---
---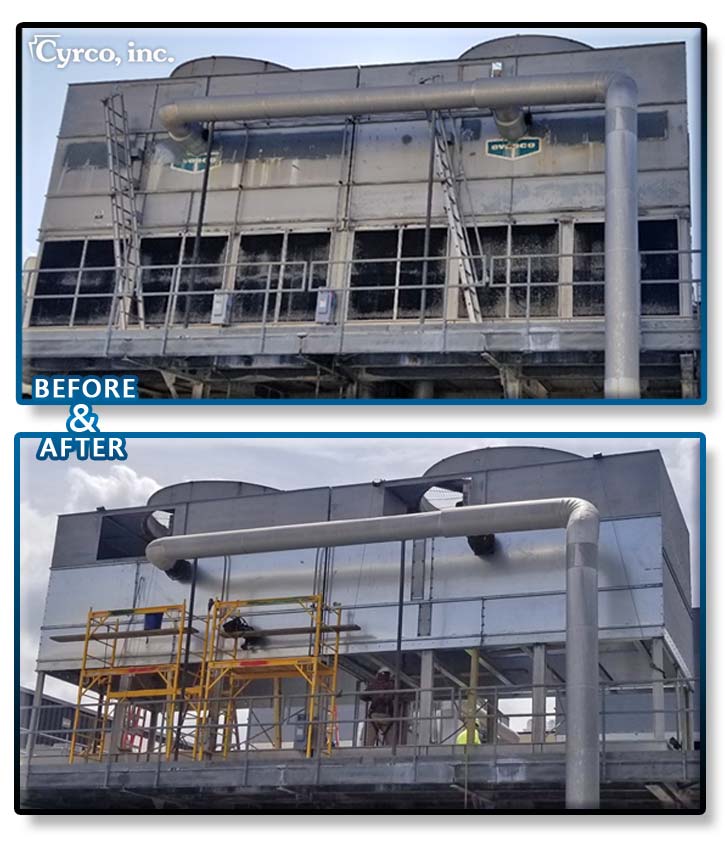 ---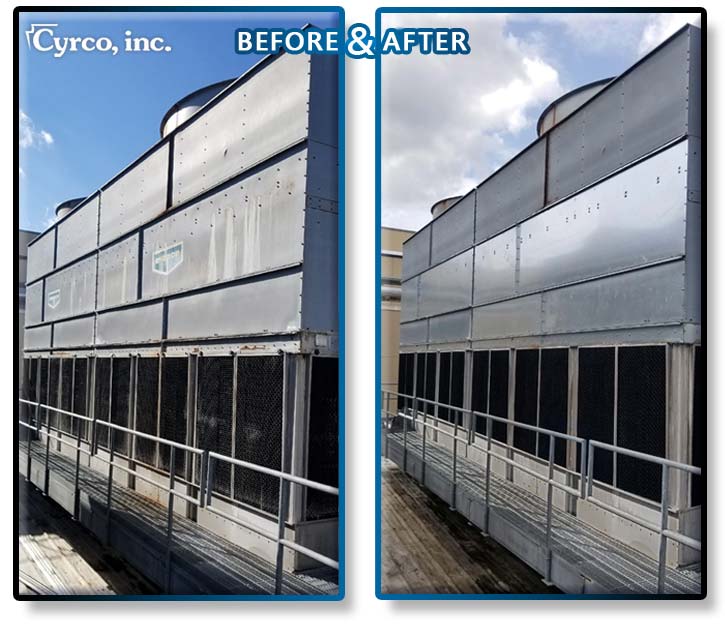 ---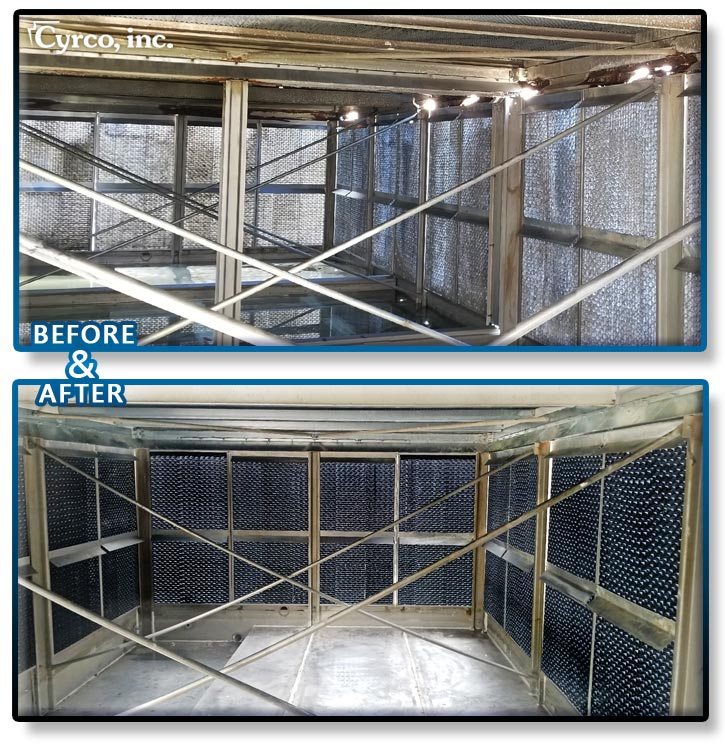 Sometimes a new cooling tower is the most cost effective solution for the long haul. Cyrco provides thorough, detailed, and itemized inspection services to determine if a new cooling tower would be most beneficial or if a rebuild would offer the most cost savings while extending many years of reliable service and performance from your existing cooling tower.
Metal Fabricating Aftermarket Parts Services

Reconstruction Services Includes:
As a distributor for Brentwood Industries, Cyrco specializes in fill media and drift eliminator replacement. Brentwood's heat transfer media is far superior to that of previous decades and boast a wide of array of options including non-fouling and non-deforming fill media even in conditions with particle-enriched dirty water or in extreme hot water temperatures. Our engineering department with the aide of today's advanced computer software, can pre-determine what types of heat transfer media will produce the maximum heat transfer rates for your cooling tower's application and configuration.
We offer metal factory assembled cooling tower restoration services for SPX Marley, Evapco, Evaptech, Baltimore Aircoil (BAC), Pritchard Pacific, or any other make and model cooling tower, no matter the year of construction. Custom metal fabricated parts made in-house from quality USA metals, professional craftsmanship installations, and 40+ years of cooling tower experience, assures our clients a restored cooling tower that outperforms and out lasts the original design.
Our clients no longer have to replace a functional and operating existing cooling tower with an expensive, new cooling tower just because of one or more old and faulty parts. Contact us today to discuss your cost saving options.

---