Fabricated Hot Water Distribution Basins | Cyrco, inc.
Aftermarket Replacement Hot Water Distribution Basins (Pans) that are Available with Short Lead Times and at Significantly Lower Costs than OEM Parts.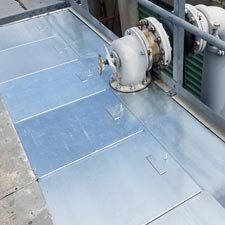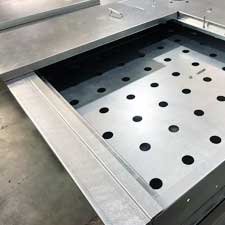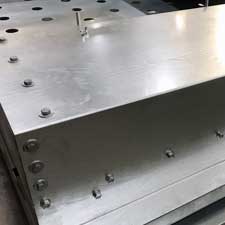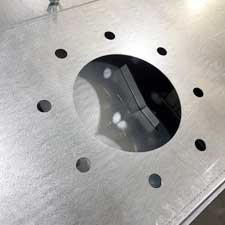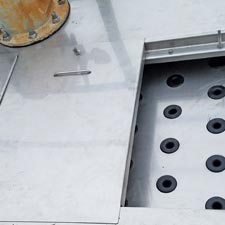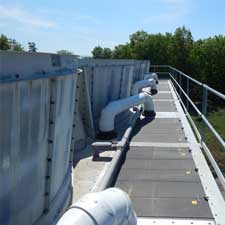 ---

---
For over forty years, Cyrco, inc. has become industry-known for their quality and craftsmanship, and Cyrco's Aftermarket Hot Water Distribution Basins (Pans) are of no exception. Cyrco replicates aftermarket hot water distribution basins fabricated to CTI recommended standards and matched to your cooling tower's manufacturer specifications. Following tight tolerances, including precise fastener locations, means that the installer has a hassle-free, drop-in replacement part that fits and is easy to install.
---
Features:
Fabricated in-house from heavy gauged, quality, USA made metals
Full package hardware kit included: new basin covers, inlet gaskets, assembly fasteners, spiral target nozzles, necessary sealants, and instructional drawings
Quick turn-around times
Lower price than OEM replacements
Includes basin cover door panels to block sunlight and prevent algae growth
Basin cover door panels securely fasten in place for storm and hurricane damage protection
Easy to install, drop-in replacements built to or above manufacturer-spec
Custom fabrication for compitibiliy with any manufacturer's cooling tower make and model
Buy one, or buy in bulk at discounted prices; retailer and wholesaler pricing also available
---
In-house, custom fabrication gives Cyrco the ability to metal fabricate hot water basins for any field erected cooling tower including drop-in replacements for refineries, energy power plants, steel mills, and more.
Cyrco also builds aftermarket replacement hot water distribution basins that are compatible with SPX Marley, BAC, Evapco, Pritchard, or any other manufacturer's make and model cooling tower. We even fabricate custom hot water basins (and/or any other metal section of the cooling tower) for older, obsolete metal factory assembled cooling towers that no longer have replacement parts available. The client does not have to completely replace a functional cooling tower with a brand new, expensive cooling tower just because of one faulty component. Our partial or complete rebuild of metal factory assembled cooling towers service often saves our clients tens of thousands of dollars or more.
---
Cycro warehouses a wide range of in demand Cooling Tower Parts, especially for expedited shipping during emergency repair service. Experienced personnel are also readily available for immediate dispatch. We help our clients overcome any type of production down-time, whether it be a mechanical failure, structural collapse, hurricane or other form of storm damage. Our reputation is known for our ability to get our clients quickly back into operation.
---