Aftermarket Cold Water Collection Basins | Cyrco, inc.
Custom Metal Fabricated Replacement Cold Water Collection Basins that are Available with Short Lead Times and at Significantly Lower Prices than OEM Manufacturer Parts.


---

---
Whether a field erected (FEP) or metal factory assembled (FAP) cooling tower, Cyrco, inc. custom metal fabricates, drop-in replacement cold water collection basins that match or exceed the original OEM manufacturer specifications. Our aftermarket replacements are metal fabricated to the tightest of tolerances assuring the user an easy, hassle-free installation with no needed modifications to the cooling tower's existing configuration. Not having to modify or replace the water distribution system saves our clients additional time and money.
Often we use thicker gauged steel than that of the origianl OEM manufacturer. Quality, thicker gauged steel, results in aftermarket parts with even greater longevity. Cyrco's cold water collection basins are metal fabricated in house using only quality, USA made steels. Thickness options range from 12 gauge up to 1/4", in both 304 stainless steel, and higher corrosion resistant grade 316 stainless steel. Grade 316 stainless steel is more superior at resisting rust in harsh environments such as water with high acid, alkali, and chloride content.
In-house metal fabricating also gives Cyrco the ability to build aftermarket cold water basins for older, obsolete cooling towers that no longer have parts available. This service can save our clients tens of thousands of dollars for Cyrco can fabricate any cold water collection basin (and/or any other metal section of the cooling tower) so that the client does not have to completely replace a solid functioning cooling tower with a brand new, expensive cooling tower just because of a faulty component.
---
Custom Aftermarket Metal Fabricated Cold Water Collection Basins for Any Manufacturer's Metal Factory Assembled Cooling Tower


Cyrco inc.'s cold water collection basins for metal factory assembled (FAP) cooling towers, are drop-in replacements that meet or exeed OEM specs including the use of heavy gauged, USA made, stainless steel. They are compatible with SPX Marley, Baltimore Aircoil (BAC), Evaptech, Evapco, Pritchard Pacific, or any other manufacturer's make and model metal cooling tower, no matter the year of construction. Cyrco offers quick turn around times and substantially lower prices than that of original OEM manufacturer parts.
---
Debris Sump Screens Custom Metal Fabricated for Any Cold Water Collection Basin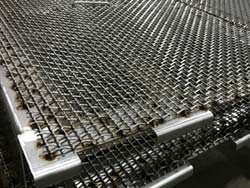 In addition to cold water collection basins, Cyrco's metal fabrication capabilities include debris screens of different sizes, metal types, purposes, and custom configurations, including Cold Water Collection Basin Debris Sump Screens.
Cyrco inc. also metal fabricates depressed outlet sumps, and much more.  Contact us today to see what we can do for you.
---