Cooling Tower Fan & Fan Assembly Reconstruction | Cyrco, Inc.
Professional Repair and Reconstruction Services of Shaft Driven (Field Erected) or Belt Driven (Factory Assembled) Cooling Towers
As a single-source, cooling tower solutions provider, Cyrco offers trouble shooting diagnostics, repair, and reconstruction services for all parts related to fan and fan assemblies, whether a belt or shaft driven fan operation. Our expertise of motors, gear boxes, fans, fan stacks, and even in-house fabricated torque tubes, equates to Cyrco's Sales and Engineering Teams expertly suiting ideal products for your application.
---
Shaft Driven Fan and Fan Assembly Repair, Reconstruction, or New Installation
We typically install Hudson Tuf-Lite fan assemblies up to 40 feet, and fan parts such as hubs, blade clamps, blade clamp hardware, bushings, and leading edge blade protectors that match your existing assembly. We also install up to 6 foot diameter, low noise, adjustable pitch aluminum fan assemblies.
The exact combination of the gearbox ratio to the size and design of the fan blade is crucial to the performance and energy efficiency of the cooling tower. A properly sized gear box will achieve desired fan speeds and will prevent excessive vibration, noise, and structural damage to the tower.
Our on-site project managers confirm proper alignment of the gears with the motor, tracking, correct alignment of the shaft, secured bolting to the foundation, ideal pitch angle, and can even open pre-existing fan stacks for blade clearance. All gear boxes are calibrated for an optimized reduction in motor speed as to not reach excessive high operating temperatures assuring the maximum life span of the gearbox.

Cyrco fabricates fan torque tubes, cross over pipes, gearbox and motor mounts, as well as mechanical equipment support mounts which saves our clients time and money. We offer fast turn around times and prices well below OEM.
---
Belt Driven Fan and Fan Assembly Replacement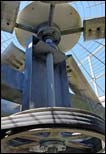 For cooling towers with belt driven fans, we routinely replace fans and all related parts on SPX Marley, BAC, and Evapco cooling towers with new adjustable pitch, lightweight aluminum assemblies and at a significantly less cost and better lead times than what the manufacturer can offer.  Our extensive database of our competitors' towers enables us to install replacement aluminum fan assemblies with factory pre-set blade clevice angles, thereby speeding the installation process and assuring you of the correct cubic feet per minute (CFM) and motor load for your application.
---
Improper installation or the use of wrong components can jeopardize employee safety and will put excess strain on the equipment which will ultimately lead to premature failure. Why take that risk? We assure our clients a cost effective, finish product installed in a safe manner, with absolute craftsmanship; a system that operates at peak performance with maximum thermal transfer rates.