Cooling Tower Fans and Fan Assemblies | Cyrco, inc.
New Installation, Repair, Replacement, and Authorized Reseller for Field Erected (FEP) or Metal Factory Assembled (FAP) Cooling Tower Fans, Blades, Fan Parts, and Assemblies.
As a single-source, cooling tower solutions provider, Cyrco offers trouble shooting diagnostics, repair, and reconstruction services for all parts related to fan and fan assemblies, whether a belt or shaft driven fan operation. Our expertise of motors, gearboxes, fans, fan stacks, and in-house fabricated fan torque tubes and mechanical equipment supports, equates to Cyrco's sales and engineering teams expertly suiting ideal products for your application.
---
Field Erected Cooling Towers: Fans and Fan Assembly Repair, Reconstruction, or New Installation. Authorized Reseller, Hudson Tuf-Lite® Axial Flow Fans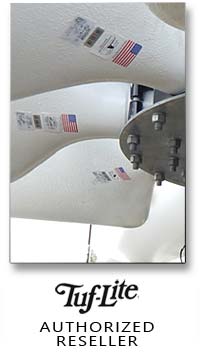 Cyrco, inc. is an Authorized Reseller for Chart Industries, manufactures of Hudson Tuf-Lite fans, who has been the leading manufacture of axle flow fans for air-cooled heat exchangers, air-cooled steam condensers, and cooling towers since the 1950s. The Hudson Tuf-Lite fan product line offers a large selection of purpose-driven fan designs and in a wide range of diameters from 5' to 40 feet. Hudson Tuf-Lite fan blades are hollow making them light weight, energy efficient, and in so, reduces unnecessary stress to the gearbox and other equipment. The fan blades are molded using either an epoxy resin or a specially formulated proprietary vinyl ester resin. They are extremely tough and provide long-term durability, even in harsh conditions and environments.
We stock, install, or ship fans and all fan related parts such as one and two-piece fan blades, hubs, blade clamps, blade clamp hardware, bushings, and leading edge blade protectors. We offer fans and fan parts that match your existing assembly making for drop in replacements that are trouble free upon installation. When applicable, we also install or ship 6' to 22' diameter, low noise, adjustable pitch aluminum fan assemblies.
As an Authorized Reseller for Amarillo Right Angle Fan Drive Gearboxes, and warrantied rebuilt SPX Marley Geareducers, we also specializes in fan gearboxes for both field erected and metal cooling towers. The exact combination of the gearbox ratio to the size and design of the fan blade is crucial to the performance and energy efficiency of the cooling tower. A properly sized, quality gearbox will achieve desired fan speeds and will prevent excessive vibration, noise, and structural damage to the tower.
Our on-site project managers confirm proper sizing of the gearbox, alignment of the gears with the motor, tracking, correct alignment of the shaft, secured bolting to the foundation, ideal pitch angle, and can even open pre-existing fan stacks for blade clearance. All gearboxes are calibrated for an optimized reduction in motor speed as to not reach excessive high operating temperatures assuring the maximum life span of the gearbox.
---
Metal Factory Assembled Cooling Towers: Aftermarket Fans and Fan Assembly Replacements. Authorized Reseller, Moore Axial Flow Fans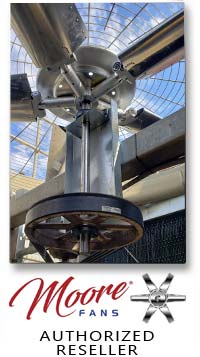 Cyrco, inc. often saves our clients 25% or more on aftermarket replacement cooling tower fan kits for metal factory assembled (FAP) cooling towers when compared to OEM replacement fans. Moore Axial Flow Fans have been known for manufacturing high-quality fans for over 80 years as they are an industry leader of innovating and developing some of the most robust, quiet, variable-speed, and energy efficient cooling tower fans ever built.
Moore aftermarket fan kits includes the hub assembly, are made of light weight 5052 marine grade aluminum, and feature adjustable diameter hubs and blade angles. Moore Fans achieve optimal performance at lower speeds and at a reduced noise level when compared to the competitors.
Cyrco's extensive database of our competitors' cooling towers enables us to install or ship these drop-in replacement aluminum fan assemblies with factory pre-set blade clevice angles, thereby speeding the installation process and assuring our clients the correct cubic feet per minute (CFM) and motor load for your application.
---
Improper installation or the use of wrong components can jeopardize employee safety and will put excess strain on the equipment, ultimately leading to premature failure. Why take that risk? Our expertise, attention to detail, use of quality parts, and craftsmanship installs, assures our clients that their cooling tower will be newly built or rebuilt correctly, and reliably operate at peak thermal performance.
---
RELATED PRODUCTS:
---