Cooling Tower Cleaning Services: Pressure Washing, Debris Removal, Basins Cleaning, & Disinfecting | Cyrco, inc.
Removes Algae, Scale, Mud, and Other Debris.
Non-Toxic Disinfectant Kills Legionella Bacteria and Stunts Future Bio-Growth.
Increases Energy Efficiency, Thermal Performance, and Life-Span of the Cooling Tower.

Benefits of a Clean Cooling Tower:
A cooling tower that runs more energy efficient including water retention
Improved thermal transfer rates due to unfouled and cleaned heat transfer media: inlet louvers, drift eliminators, and fill media
Reduced unnecessary stress on internal parts resulting in less mechanical failures and unnecessary shut downs
Extend the life of the cooling tower's structural and mechanical parts
Non-toxic, eco-friendly, EPA approved, surface disinfectant application sanatizes by killing viruses and bacteria including 99.9% of surface Legionella bacteria
A safer cooling tower for all personnel within a 2 mile radius
Stunts future bio-growth
Cold water basin debris cleaning including micron filtration that takes the basin's dirty water and returns it back to the basin, but now crystal clear and without the loss of water volume. Greatly removes algae, virus, and bacteria growth-promoting nutrients.
No production downtime and long term cost savings
---
Cooling Tower Cleaning Process - Step By Step
Cyrco, inc.'s complete, multi-process, cooling tower cleaning service typically consists of:
Step 1: Pressure Washing Debris Removal:
Pressure washing the interior and exterior of the cooling tower, removing dirt, debris, scale, mold, algae, and other contaminants.
Step 2: Heat Transfer Media Cleaning:
Removing debris and lightly pressure washing and/or vacuuming inlet louvers, drift eliminators, and fill media.
Step 3: Hot Water Basin Cleaning:
Cleaning the hot water distribution basin(s) by removing any heavy debris, then dry vacuuming thoroughly clean. Replacing any broken or missing nozzles.

Step 4: Cold Water Basin Cleaning
Cleaning the cold water collection basin(s) using our powerful, industrial-grade, Goodway CTV-1501 Vacuum system that removes heavy debris including sludge, mud, dissolved solids, or any industrial waste material. This process also cleans and unclogs the cold water basin's debris sump screen(s) therefore increasing water flow.
In addition to vacuum removal of debris, using Goodway's CTV Filtration System, the basin's water is micron-filtered clean down to 5 microns, returning crystal clear water with greatly reduced potentially harmful bacterias including Legionella. The filtered water is directly returned to the tower, resulting in no water loss, nor a required shut down for cleaning.
Step 5: Surface Disinfectant Application:
The final step of our cooling tower cleaning process is applying an EPA approved, eco-friendly, non-toxic, sanitizing surface disinfectant which stunts future bio-growth, including mold and algae. The disinfectant is effective on hard surfaces and is safe to use on wood, fiberglass, and metal. Regular annual cleanings and use of this disinfectant, especially on wooden cooling towers, greatly prolongs the tower's life-span.
As an additional benefit, this surface disinfectant kills bacteria and viruses, including Legionella and COVID-19. By keeping your system clean it will reduce the nutrients available for Legionella growth. Drift (small water droplets) from a contaminated cooling tower can carry Legionella and other bacteria as far as 2 miles from your facility and can then enter and infect the lungs of unsuspecting people. Deadly Legionnaires' Disease outbreaks are statistically derived from cooling towers, making our sanitizing cleaning service a must for any cooling tower owner concerned about the health of their employees and the nearby community.
---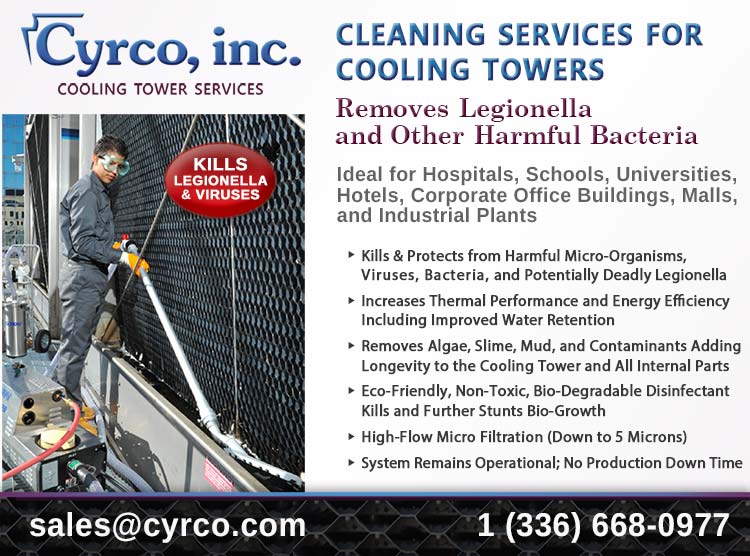 Did you know?
New York City takes Legionnaires' Disease very seriously as every cooling tower within the city must be registered and annually tested for Legionella. Owners must also submit and employ a regular maintenance program and plan. If NYC takes these measures to prevent dangerous Legionella outbreaks that can cause major health ailments and/or even mass deaths, we believe it's important for you to do so as well. Is your cooling tower potentially dangerous to your employees and others in your nearby community?
If nearby buildings and cars have water droplets on them, then your cooling tower's drift eliminators are failing. These fine water droplets which are industry known as drift, often carry viruses and bacteria, including Legionella, the bacteria responsible for Legionnaires' disease. These fine water droplets can travel up to two miles away from the cooling tower. As heat transfer media experts, we can offer the most ideal products for your application and with craftsmanship installation.
---
Recent and Past Legionnaires' Disease Outbreaks, Including Some Deadly Cases:
July 19, 2023
Minnesota Dept. of Health
"Health Officials Investigating Legionnaires' Disease Cluster in Grand Rapids, MN"
The article states: "In 2022, 109 cases of Legionnaires' disease were reported in Minnesota." and that "Past outbreaks have been linked to various environmental water sources such as cooling towers, . . ."
---
Sheraton Hotel, Legionnaires' Disease Kills One, Hundreds Exposed, Dozens Possibly Sickened - Atlanta, Georgia

---
5 Deaths, 22 Confirmed Cases of Legionnaires' Disease - Union, New Jersey

---
10 Dead, Over 100 Infected with Legionnaires' Disease - Bronx, New York

---
3 Contract Legionnaires' Disease from a Chicago Marriott Hotel - Chicago, Illinois

---
During Cyrco's cleaning process, at no additional charge, we often include exercising and lubing the distribution valve(s) along with implementing other small preventative maintenance procedures. We consider ourselves to be a professional, full-service cooling tower solutions provider, which while on-site, allows us a chance to evaluate your cooling tower. With no pressure or pushy sales calls, we then can offer detailed recommendations for repairs, replacement of parts, or a suggestive preventative maintenance plan and the benefits it would offer. Often combining cooling tower cleaning services and a preventative maintenance goes hand in hand for maximizing your cooling tower's thermal performance, energy efficiency, and the overall longevity of structural and mechanical parts.
---
RELATED PRODUCTS:
---