Hot Water Distribution System Parts | Cyrco, Inc.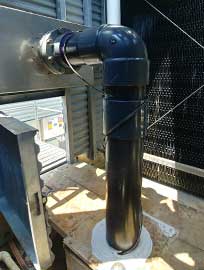 Uniform water coverage over the heat transfer media is critical to optimizing cooling tower performance and maintaining unit efficiency.  
We offer new distribution systems for counterflow cooling towers complete with all necessary support saddles, header and lateral tie-downs as well as nozzles and adapters.  
Cyrco provides a full array of replacement parts and/or repair services for any type of water distribution systems in both field erected or factory assembled cooling towers. Cyrco keeps abreast with the latest advancements in materials and construction practices including utilizing scheduled 80 PVC piping, non-corroding stainless steel, G-235 galvanized steel, or non-corrosive fiberglas reinforced plastic (FRP).
Cyrco also metal fabricates cold and hot water distribution basin packages which includes all necessary hardware including nozzles, inlet splash boxes, assembly fasteners and sealants. All material used is USA made metals, assuring our clients the utmost in quality and craftsmanship.