Hot Water Distribution Systems | Cyrco, inc.
Uniform Water Coverage Over the Heat Transfer Media is Critical to Optimizing Cooling Tower Performance and Maintaining Unit Efficiency.
Cyrco offers a wide range of replacement parts, and/or repair services, for any type of hot water distribution system, whether a field erected or a metal factory assembled cooling tower. Cyrco keeps abreast with the latest advancements in materials, construction practices, and releases of leading manufacturer's products. Our highly trained, experienced staff are extremely knowledgable with utilizing scheduled 80 PVC piping, non-corroding stainless steel, G-235 galvanized steel, or non-corrosive fiberglas reinforced plastic (FRP).
We carry a wide range of new hot water distribution system parts for counterflow cooling towers and offer complete packages that include all necessary saddles supports, headers, lateral tie-downs, spray nozzles, and adapters.
---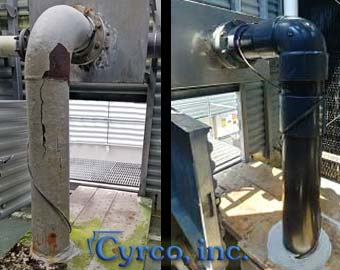 A common failure on Baltimore Aircoil (BAC) cooling towers is that the original galvanized steel inlet riser connection plate corrodes and deteriorates, ultimately leading to water leaks. As a leader in cooling tower innovated parts, Cyrco metal fabricates heavy gauged, USA stainless steel, replacement inlet riser connection plates that cost 20% less than that of a BAC galvanized replacement. Our superior stainless steel plates if used in conjunction with a stainless steel flange and PVC inlet piping, assures our clients will not have another failure, nor ever need to waste their time and money on follow up service calls for replacement connection plates.
---
Cyrco also expertly metal fabricates aftermarket replacement hot water basins for any make or model cooling tower. Fabricated to spec, our drop-in basins are made from heavy guaged, USA stainless or galvanized steel. Our complete basin packages include all necessary hardware including nozzles, inlet splash boxes, assembly fasteners, and sealants. We offer fast shipping and our prices are significantly less than that of OEM replacements. Contact us today to see how much we can save you on a Cyrco basin package.
---