Fan Screens for Cooling Towers & MEP Products | Cyrco, inc.
Custom Metal Fabricated, Galvanized or Stainless Steel, Replacement Fan Screens and Guards. Low Cost, Fast Lead Times, and Made From Quality USA Metals.

---

---
Metal Options: Hot Dipped Galvanized (HDG) or Stainless Steel (SS)
Diameter Size: from 6' (72" / 180cm) up to 18' (216" / 550cm)
Compatible with SPX Marley, BAC, Evapco, and ANY other cooling tower manufacturer's make and model, no matter the year of construction
Multi-Industry and Custom-Purpose Part
Services Available for the M-HVAC, MEP, and Other Industries
Multi-Purposes Custom Metal Fabricated Screens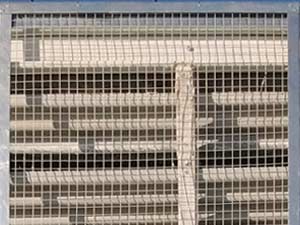 Cyrco, inc.'s metal fabrication capabilities include guards and fan screens of different metal types, screen size mesh openings, metal weights and gauges, all of which is custom configured for your specific application. We also specialize in custom metal fabricated cold water collection basin debris sump screens and depressed outlet sumps.
Custom Fabricated Screens for Purposes as:
Bird, Rodent, and Pest Screens
Debris Screens
Cold Water Basin Debris Sump Screens
Culvert Screens
or Custom for Your Application
Optional Features:
Custom Mounting Solutions
Wide Range of Screen Mesh Sizes
Multiple Types of USA Made Metals
---
RELATED PRODUCTS:
---