Cyrco's Nonclogging Spray Nozzles for Cooling Towers
Ideal for "Dirty Water" Solid Particulate Cooling Towers: Steel Mills, Paper and Pulp, Lake or River Drawn, Meat Bi-Products, Plastics, Grains, Metals, and More...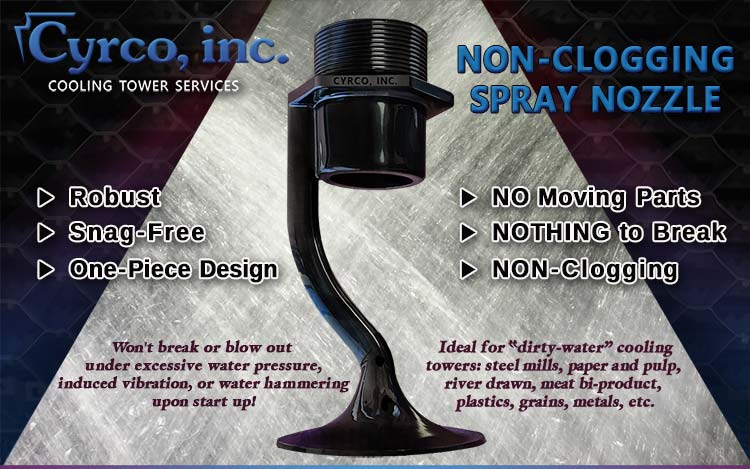 Simplicity!
No constricting bottlenecks or areas of snag making this the most non-clogging spray nozzle on the cooling tower market
No moving parts that often clog, are unreliable, and the first part of the nozzle to break; a broken nozzle can cause "water jet" damage to the fill media costing the client even more in an expensive fill repack repair
No distribution pipe clogging or other collection build-up areas within the hollow nozzle
Extremely robust, super simple, one-piece design
---
Features:
For counter-flow design cooling towers
Designed, developed, and manufactured solely by Cyrco, inc.
Exceptionally high flow rate of gallons per minute (gpm) performance
Accepts restricting, tapered metering orifices to regulate and distribute water evenly throughout the lateral water distribution system
Nozzle Adapters for standard 2" fine thread nozzles matching contours to mount flush on four, six, or eight inch lateral distribution pipes
Made of chemical and thermal resistant, industrial-grade polypropylene
A bottom dispersal cone splash plate perfectly engineered to uniformly fan dispersed hot water without gaps or streams
Easy to install, inspect, and with no additional maintenance needed
Won't break or blow out under excessive water pressure, induced vibration, or water "hammering" upon start up
---
Ideal for solid-particulate "dirty-water" cooling tower applications such as:
Steel and metal mills
Paper and pulp industry cooling towers
Lake or river drawn water cooling towers
Meat bi-product cooling towers
Contact cooling towers that collect manufacturing particulates such as plastics, grains, minerals, metals, dust, dirt, or other clogging contaminants.
---
RELATED PRODUCTS:
---