Rebuild / Reconstruction Services of Old Metal Factory Assembled (FEP) Cooling Towers | Cyrco, inc.
Huge Cost-Savings Partial or Complete Rebuild / Reconstruction Services for Metal Factory Assembled (FAP) Cooling Towers: Fill Media Repacks, Fan Replacements, Quality Metal Fabricated Side Wall Casing, Cold and Hot Water Basins, and Much More.
---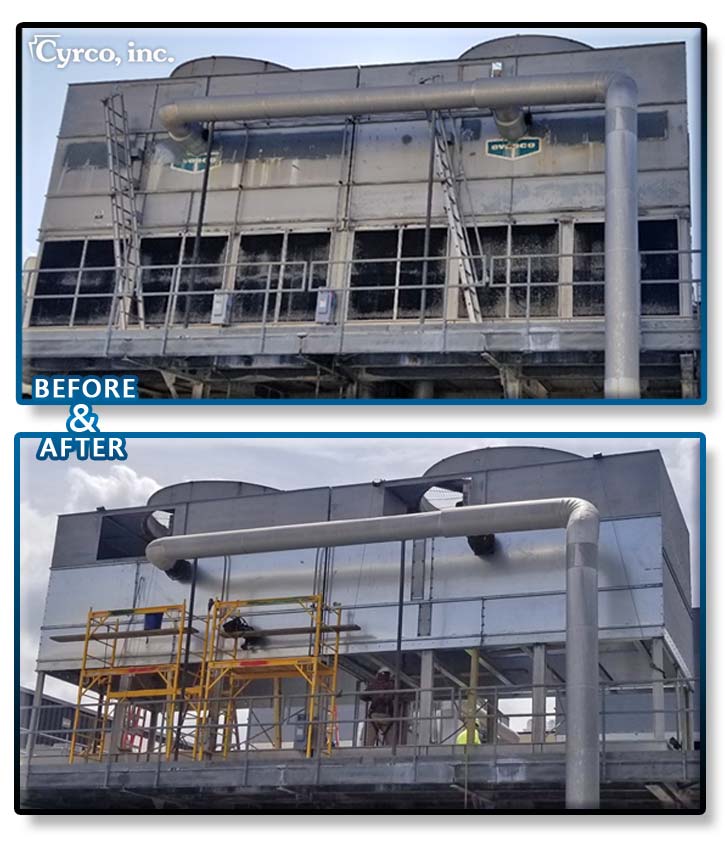 ---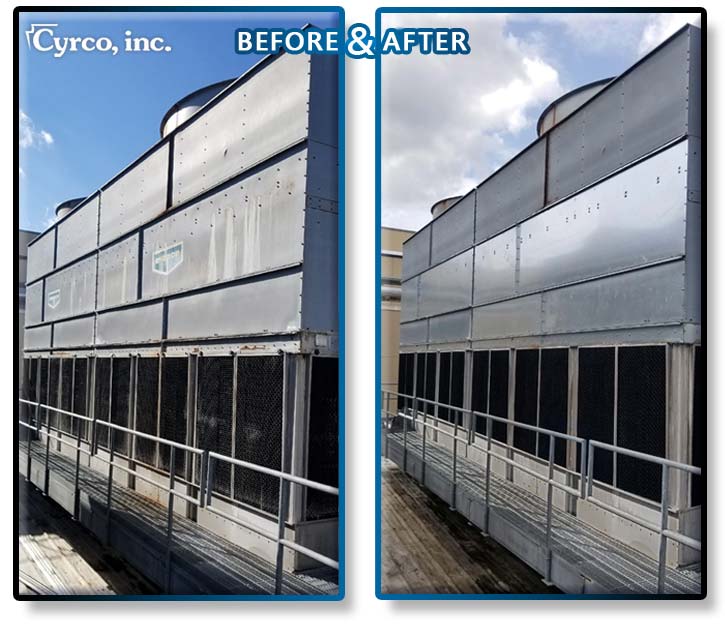 ---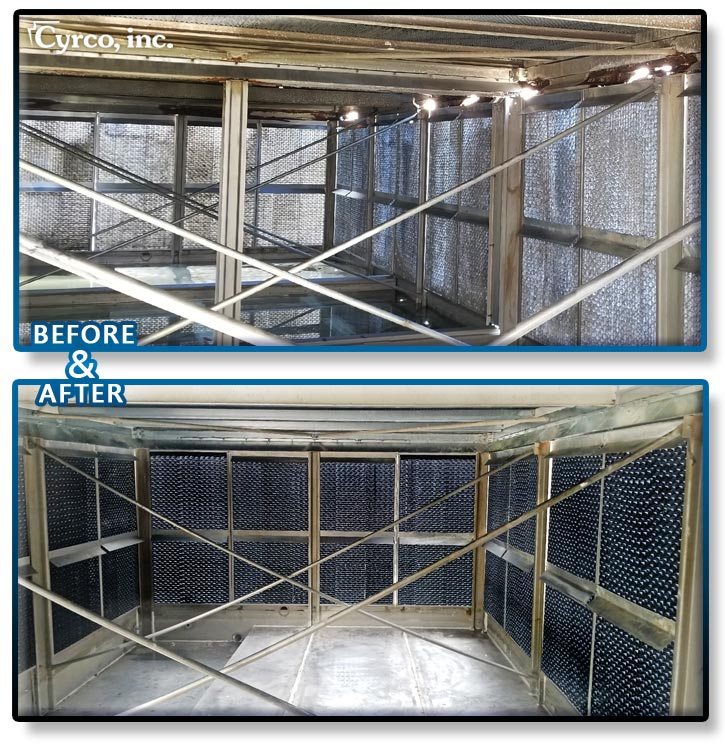 For metal factory assembled (FAP) cooling towers, regardless of the manufacturers make, model, or year of construction, Cyrco offers complete repair and reconstruction services to quickly get your cooling tower quickly back into operation, achieving peak thermal performance, and built better than before.
Rusted and deteriorated structural members, hole riddled oxidized wall panels, fouled or deformed heat transfer fill media, or obsolete and non-available parts often causes our clients to believe that their old cooling tower must be completely replaced even though the cooling tower is structural sound and still operational. Sizing and spacing constrictions can cause the price tag of a new custom cooling tower to be exponential compared to a rebuild of the current cooling tower that utilizes existing parts and materials such as foundations, structural framing, ladders and safety railing, the water distribution system, electrical systems, and more. Cyrco's rebuild and reconstruction services of one or more sections of the cooling tower often equates to our clients saving tens-of-thousands of dollars (or more) when compared to the buying of a new OEM factory assembled cooling tower or the large scale construction of a new field erected cooling tower. Our rebuild and reconstruction services are usually the most cost effective solution with the end result being a reconstructed cooling tower that is optimized for maximum energy efficiency, long-term reliability, and rebuilt to outperform and outlast the original design.
Additional cost savings often include no changes and replacement parts to the steel grillage, water distribution system piping, bolt-down anchor locations, safety railings, and other expensive components. This not only can save our clients a lot money in labor and parts, but also decrease the deadline of the project's completion, greatly lessening valuable production down-time. With the advancement of today's materials, and Cyrco's knowledge and craftsmanship products, your replacement cooling tower is sure to surpass the longevity and thermal performance of the old tower.
We routinely repair, reconstruct, and/or metal fabricate parts for SPX Marley, Evapco, Evaptech, Baltimore Aircoil (BAC), Pritchard, and many other manufacturer brand towers. Our metal fabrication team can replicate just about any metal cooling tower part utilizing USA, heavy gauged steel, and at prices substantially lower costs than OEM. We also warehouse a wide selection of commonly used, and often hard to find, parts including fan assemblies, gearboxes, motors, splash and film fill media, drive shafts, couplings, fan belts, hardware, and more.
---
REPLACEMENT AND RECONSTRUCTION SERVICES INCLUDE BUT NOT LIMITED TO:
---
AFTERMARKET METAL FABRICATED PARTS:
Due to Cyrco's state-of-the-art metal fabrication capabilities just about any cooling tower part can be custom replicated to OEM manufacturer, or better, specifications. Our quality, expertly fabricated replacement parts are made from heavy gauged, USA made steel. In addition to our prices being substantially lower costs than OEM parts, our custom fabricated parts are readily available with short lead times. Cyrco's custom metal fabricated parts for field erected cooling towers include:
---
Cyrco, inc. custom manufactures metal factory assembled (FAP) cooling towers that are built for the client's specific application, and are superior in design and craftsmanship. These assets cross relate as they are vital and extremely beneficial when we provide repair, reconstruction, and rebuilding services to older factory assembled cooling towers. Whether in need of newly designed metal cooling tower, replicated replacement, or a complete rebuild of an old existing cooling tower, Cyrco always exceeds expectations. Willing to do what the larger manufacturers won't, Cyrco produces stellar results; contact us today to see what we can offer you.
---
RELATED PRODUCTS:
---