Metal Fabrication of Custom Aftermarket Replacement Parts for Cooling Towers and Other Industries | Cyrco, inc.
Custom Aftermarket Replacement Parts Metal Fabricated with Quality Craftsmanship and Heavy Gauge, USA Made Steel. Short Lead Times. Significantly Lower Costs than Original OEM Parts

---
*Manufacturer-direct parts supplier, buy one or buy in bulk. Retail and wholesale inquiries also welcome.
Due to Cyrco's state-of-the-art metal fabrication capabilities and extensive years of expertise in the cooling tower industry, just about any cooling tower part can be replicated to manufacturer, or better, specifications. Following tight tolerances, results to drop-in replacement parts that align with existing hardware fasteners, making for an easy, hassle-free installation. In-house production also gives Cyrco the ability to fabricate aftermarket replacement parts for older, obsolete cooling towers. Our parts are compatible with SPX Marley, Baltimore Aircoil (BAC), Evaptech, Evapco, Pritchard, and any other manufacturer's cooling tower. Cyrco offers quick turn around times and prices substantially lower than that of OEM parts.
---
About Our Metal Fabrication Capabilities


In addition to an extensive database built through decades of hands on experience, our engineering and fabrication teams utilize the latest 3D AutoCAD software, fiber laser cutting machines, 180 and 200 ton brake presses, 3D printers, chemical etching machines, mig, tig, and stick welders, and more. This in turn, provides our seasoned and well-trained professional fabricators with the tools they need to custom metal fabricate just about any metal part, cooling tower related or otherwise. Our professional fabrication team carry a broad range of knowledge working with a host of USA made metals including standard mild steel, carbon steel, 308 stainless steel, 316L (A4) medical-grade stainless steel, G235 hot-dipped galvanized steel, W15 and W20 steel I-beams, and much more.
---
Cyrco's Metal Factory Assembled (FAP) Cooling Towers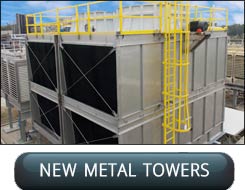 Cyrco's Custom Metal Factory Assembled (FAP) Cooling Towers
In addition to fabricated aftermarket replacement parts, Cyrco also engineers and manufacturers custom stainless steel cooling towers specifically designed for our client's application. Options include splash or film fill, and in either cross flow our counter flow configurations. Our cooling towers are industry-known for delivering impressive thermal performance, robust durability, and continuous operational reliability even in harsh conditions and environments. We specialize in designing cooling tower that house non-deforming and non-fouling heat transfer media (fill), even when hot water temperatures exceed above 130 degrees and/or in extremely dirty water or air borne particle applications.
Custom fabrication capabilities provide our clients with many versatile options including the ability to custom manufacture a cooling tower to match the footprint of your old cooling tower's foundation. The new installation would not require any changes to the steel grillage, water distribution system piping, or the bolt-down anchor locations. This often saves our clients a lot of time and money. Always willing to do what the larger manufacturers won't, Cyrco will custom engineer a top-performing cooling tower to meet your specific application.
---
Custom Metal Fabricated Parts for ANY Commercial or Industrial Application

Cyrco's metal fabrication services are not just limited to the cooling tower industry, as our metal fabrication teams can custom build just about any metal part, no matter the industry. Always made with quality and USA made metals, fast lead times, and great prices; contact us today to see how we can serve you.
---
Cycro warehouses a wide range of high demand Cooling Tower Parts, especially for expedited shipping during emergency repair service. Experienced personnel are also readily available for immediate dispatch. We help our clients overcome any type of production down-time, whether it be a mechanical failure, structural collapse, hurricane or other form of storm damage. Our reputation is known for our ability to get our clients quickly back into operation.
---