FRP Air Inlet Louver Repair for Field Erected (FEP) Cooling Towers | Cyrco, inc.
Quality Air Inlet Louver Repairs with Unmatched Resistance Against Corrosion, Weathering, and Deterioration.

The cross flow field erected cooling tower's air intake louvers are extremely important component as they allow for the intake of cooler, external air while also preventing the exit and loss of the tower's splashing water that is being gravity fed to the cold water collection basin. If designed and installed correctly, they also can help serve in noise reduction while not allowing algae and bio-growth-promoting sunlight, or exterior fouling debris to enter the inside of the tower.
Cyrco, inc. only installs or sells as a cooling tower parts supplier, superior quality, fiberglass reinforced polymer (FRP) air intake louvers. This is the same material we install as exterior FRP wall casing on field erected cooling towers. These corrugated FRP air intake louvers offer excellent, unmatched, long-lasting resistance against corrosion, weathering, and deterioration, even in harsh environments and continuously wet conditions.
Cyrco, inc. offers air intake louver columns and mounting arm brackets made of either fiberglass reinforced polymer (FRP) tubing or Douglas Fir lumber. We also furnish and always retain in stock all necessary mounting hardware.
We believe in doing it right the first time, including the use of superior products such as these FRP air intake louvers. These FRP louvers are constructed for maximum longevity, deferring expensive repairs and reconstruction costs that can often quickly occur with the use of sub-par louver material. These high-quality FRP louvers ultimately saves our clients time, money, and aggravation.
---
Additional Features:
---
Options:
Fire Rated Flame Spread (Either 25 or Less and 50 or Less)
General Purpose Non-Fire Rated
Product Weights of 8 oz/sf, 12 oz/sf, or 16 oz/sf
Embossed or Smooth Finish
---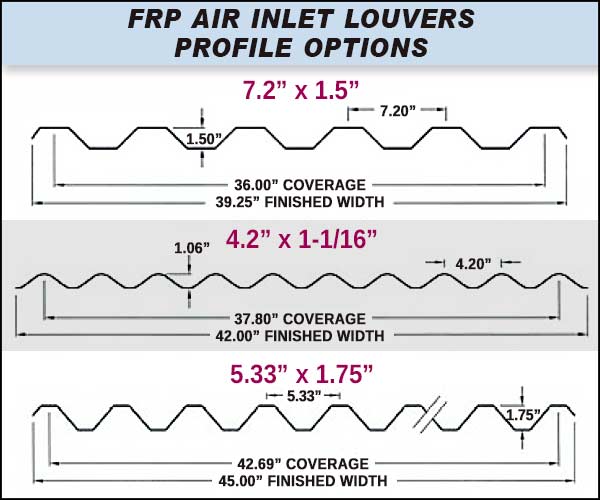 ---
24/7/365 Emergency Cooling Tower Repair Services
FRP air intake louvers are often the first part of the cooling tower to suffer damage from hurricanes, tropical storms, coastal winds, tornadoes, and other powerful weather events. Our service technicians are on standby by 24/7 to respond immediately with personnel and materials in order to get our clients quickly back into operation. To alleviate production down time, being these are often time-critical situations, Cyrco, inc. warehouses a large selection of cooling tower parts including: FRP air inlet louvers, louver arm brackets and hardware, FRP casing panels, gearboxes, fans and fan assemblies, fan stacks, drive shafts, fill media, Douglas fir lumber, FRP structural tubing, water distribution system parts, fasteners, hardware,and much more. These parts can also be expedited shipped to your location.
---
RELATED PRODUCTS:
---