Cooling Tower Repair & Reconstruction | Cyrco, inc.
Repair, Reconstruction, and Rebuild Services for Both Field Erected and Metal Factory Assembled Cooling Towers: Mechanical and Structural Repairs including 24 Hour Emergency Service.

Whether it be a field-erected (FEP) or metal factory assembled (FAP) cooling tower, our experienced sales, engineering, and service repair teams can assist you with determining the best practices and material selections to address repair or reconstruction needs of your cooling tower. Cyrco, inc. repairs and reconstructs cooling towers of all sizes and configurations, makes and models, no matter the age nor manufacturer. We always have experienced personnel readily available on stand-by for immediate dispatching along with a wide selection of in-stock, long-proven, cooling tower parts. In addition to being a parts distributor for major cooling tower manufacturers, our in-house metal-fabrication teams can quickly manufacturer custom aftermarket replacement parts for any cooling tower and with prices well below OEM manufacturers cost. Cyrco's aftermarket replacement parts are always built to or above OEM specifications including the use of heavy gauged USA made metals. These factors equate to professional, quality, cost-effective repairs, completed in a timely manner, which ultimately leads to satisfied and repeat clientele.
---
Field Erected (FEP) Cooling Towers Repair & Reconstruction Services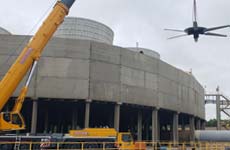 For field erected (FEP) cooling towers, we offer a wide array of repair and reconstruction services for any component within the cooling tower including: Air Inlet Louver and Fiberglass Siding, Fan Decking, Fans and Hubs , Structural Supports, Mechanical Equipment, Heat Transfer Media (Fill, Drift Eliminator), and Stair Towers, Stair Cases, Safety Railing, and Walkways, and more.
Cyrco is also a distributor for many reputable cooling tower parts manufacturers including Hudson Tuf-Lite Fans, Moore Axial Flow Fans, Rexnord products including Fan Brakes, Amarillo Gearboxes (and refurbished SPX Marley Geareducers), and Brentwood Industries cooling tower products. We inventory a wide selection of parts including fan blades, fan stacks, gearboxes, motors, drive shafts, couplings, flow control valves, water distribution systems, splash and film fill media, louvers, frp fiberglass and wood materials, hardware, and more. Cyrco's personnel are always on standby 24 hours a day for emergency service repair; and/or we also offer expedited shipping to get your cooling tower quickly back into operation.
Due to Cyrco's state-of-the-art metal fabrication capabilities just about any cooling tower part can be custom replicated to OEM manufacturer, or better, specifications. Our quality, expertly fabricated replacement parts are made from heavy gauge, USA made steel, and are readily available with short lead times and at substantially lower costs than OEM parts. Cyrco's custom metal fabricated parts for field erected cooling towers include:
---
Metal Factory Assembled (FEP) Cooling Towers Repair & Reconstruction Services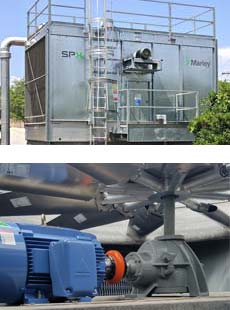 For metal factory assembled (FAP) cooling towers, regardless of the manufacturers make, model, or year of construction, Cyrco offers complete repair and reconstruction services to quickly get your cooling tower quickly back into operation and achieving peak performance.
We routinely repair, reconstruct, and/or metal fabricate parts for SPX Marley, Evapco, Evaptech, Baltimore Aircoil (BAC), Pritchard, and many other manufacturer brand towers. Our metal fabrication team can replicate just about any metal cooling tower part utilizing USA, heavy gauged steel, and at prices substantially lower costs than OEM. We also warehouse a wide selection of commonly used, and often hard to find, parts including fan assemblies, gearboxes, motors, splash and film fill media, drive shafts, couplings, belts, hardware, and more.
Cyrco inc.'s low-cost, high-quality, custom metal fabricated parts repairs for metal factory (FAP) assembled cooling towers:
OEM parts repairs and services for metal factory assembled (FAP) cooling towers:
---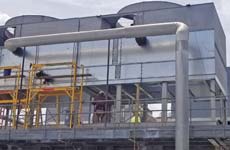 Cyrco, inc. also provides partial and complete rebuilds of cooling towers including the replacement of individual cells, or expansion of the overall size and thermal performance by increasing the number of cells, for any cooling tower manufacturer no matter the year of construction, nor make and model. We routinely rebuild SPX Marley, Baltimore Aircoil (BAC) / Pritchard Pacific, PSI, Evaptech, Evapco, and other manufacturer's cooling towers. Our expertise, knowledge, craftsmanship, and more than 40 years of experience, combined with utilizing today's most-advanced, long-proven materials and products, assures our clients that any rebuild service will result in a newly rebuilt cooling tower that is robust, and built for peak thermal performance and operational reliability, no matter the industrial application or environmental condition.
---
For over 40 years, Cyrco has built our reputation on executing cooling tower repair and rebuild projects in a timely and safe manner, cost effectively, transparent, and within budget. Our products, combined with decades of knowledge and experience, are built with the finest of materials and craftsmanship. We look forward to providing our professional services to you.
---