Aftermarket Fan Screens and Guards | Cyrco, inc.
Custom Metal Fabricated, Galvanized or Stainless Steel, Replacement Fan Screens and Guards. Low Cost, Fast Lead Times, and Made From Quality USA Metals.

---

---
Available in Hot Dipped Galvanized or Stainless Steel
Size capability from 6' (72" / 180cm) up to 18' (216" / 550cm) in diameter
Compatible with SPX Marley, BAC, Evapco, and any other cooling tower manufacturer's make and model, no matter the year of construction.
Not just limited to the cooling tower industry; custom fan screen fabrication available for M-HVAC and other industrial appliactions.
Custom Fabricated Multi-Purpose Screens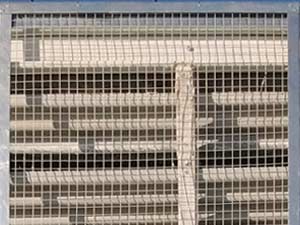 Cyrco's metal fabrication capabilities include guards and screens of different sizes, metal types, purposes, and configurations, including bird screens, debris screens, cold water collection basin sump screens, basin screens, culvert screens, and more. We offer custom mounting solutions, and a wide range of screen mesh sizes and material options.
---
Emergency Service and Expedited Parts
Cycro warehouses a wide range of in demand Cooling Tower Parts, especially for expedited shipping during emergency repair service. Experienced personnel are also readily available for immediate dispatch. We help our clients overcome any type of production down-time, whether it be a mechanical failure, structural collapse, hurricane or other form of storm damage. Our reputation is known for our ability to get our clients quickly back into operation.
---