New Cooling Tower Construction | Cyrco, Inc.
New Construction of Field Erected (FEP) Cooling Towers and Custom Manufactured Factory Assembled (FAP) Cooling Towers; Always Expertly Suited for Extreme Durability, Thermal Performance, and the Client's Specific Application.

Cyrco provides a wide range of options for new cooling tower construction, whether the client is in need of a field-erected or factory-assembled, crossflow or counterflow configuration. Our professional engineering and sales teams work directly with our clients to assure we meet or exceed all expectations. Due to our state-of-the-art metal fabrication and manufacturing capabilities, Cyrco is able to reproduce, custom replacement cooling towers that offer extreme durability and maximized performance of heat transfer rates. When applicable, these capabilities allow us to reuse the existing foundation, structural framing, and water distribution system, often saving our clients tens of thousands, or more, of dollars.
---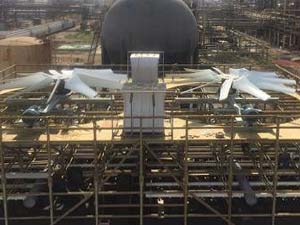 No matter the size or complexity, Cyrco offers the designing, engineering, and new construction of field erected cooling towers for an abundance of industrial applications. This includes an array of varying sizes, crossflow or counterflow configurations, and material options such as pressure-treated wood, FRP fiberglass, galvanized steel, or stainless steel. Our field erected cooling towers are engineered and customized for the client's exact purpose, structure location including reusing existing foundations if applicable, and overall specifications in order to achieve or exceed the client's expected thermal performance, plume abatement, and drift requirements. Tower framing options include Pultruded FRP Fiberglass, industrial grade ACC, pressure treated Douglas Fir or California Redwood. Cyrco also provides our clients with optional, in-house fabricated cooling tower parts, which saves our clients time and money. We assure all of our clients that no matter the complexity of the cooling tower design, your cooling tower will be engineered for maximum thermal performance, extreme durability, and always completed in a timely manner.
---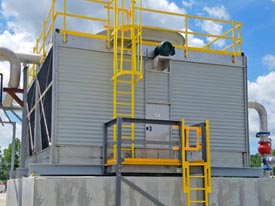 Cyrco's Custom Manufactured XFS Cooling Towers
Often you can't purchase the cooling tower you need for your specific application because of spacing requirements, poor water quality, chemical reactions, excessive suspended solids, surrounding airborne particulate matter, or extreme hot water temperatures. Cyrco offers solutions by custom engineering, manufacturing, and installing, splash or film fill, cooling towers that are custom engineered for our client's application. We can even custom manufacture a cooling tower to specifically match the footprint of your existing cooling tower's foundation. The installation would not require any changes to the steel grillage, water distribution system piping, or even the bolt-down anchor locations. This often saves our clients a lot of time and money. Always willing to do what the larger manufacturers won't, Cyrco will custom engineer a cooling tower to meet your specific needs.
Cyrco also replaces or add cells for SPX Marley, BAC, Pritchard, PSI, and other cooling towers manufacturers brands no matter the year of construction.
---

To provide our customers with additional versatile options, Cyrco is also the authorized southeastern distributor for Amcot fiberglass cooling towers. These entry-level, price point fiberglass cooling towers are ideal for smaller cooling applications such as dry cleaner businesses, textile mills, and other industries with clean water operations. Amcot's counterflow, fiberglass cooling towers are light weight, constructed of non-corrosive FRP fiberglasss, and well known for their reliability and efficiency at transferring heat with a low annualized operating cost.