New Cooling Towers | Cyrco, Inc.
Cyrco, Inc. Installs Factory-Assembly Cooling Tower(s) or Engineers and Constructs Field-Assembled Cooling Towers; Always Expertly Suited to Best Meet the Client's Application.

Cyrco can assist with all your new cooling tower needs, whether field-erected or factory-assembled. Our engineering and sales team can assist with individual design configurations and materials of construction as well as specialized or specific component. Due to our engineering capabilities, Cyrco is able to offer direct replacement cooling towers to meet the existing footprint, thermal capability, and piping configuration of your current cooling tower, including but not limited to:
BAC Cooling Towers
SPX Marley Cooling Towers
Evapco Cooling Towers
Pritchard Cooling Towers
PSI Cooling Towers
Amcot Cooling Towers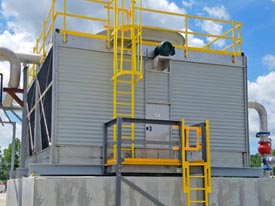 Cyrco's XFS Splash Series cooling towers were designed to meet the unique requirements of several of our clients with dirty water applications where film fills would quickly plug and foul. Our XFS Splash Series cooling towers may be configured with several different types of splash media to accomodate entering water temperatures well above 130° F, high levels of airborne particulates as well as excessive total suspended solids within the process flow. The XFS Splash Series towers have quickly gained a reputation for delivering impressive thermal performance, durability, and operational reliability in the harshest of environments. These units are ideal for rendering plants, steel mills, refineries, and any application with less than perfect conditions.
Our crossflow, factory-assembled, stainless steel cooling towers are specifically designed for corrosion resistance, long term durability, and ease of maintenance while delivering optimum thermal performance. These units are ideal for operation in harsh environments where a galvanized steel cooling tower will quickly deteriorate. Our sales team can assist you with selecting the proper heat-transfer media specific to your individual process or application.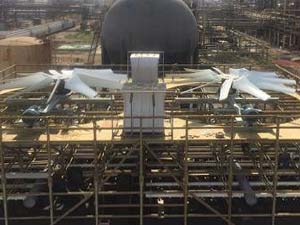 Cyrco supplies new counterflow and crossflow cooling towers constructed of either Pultruded Fiberglass, California Redwood, or West Coast Douglas Fir. We can provide ADD cells for Marley, BAC, Pritchard, and PSI cooling towers as well as many other manufacturers to meet your process cooling or HVAC application needs. Our engineering and sales team can assist with design considerations, bid development, and material specifications for your application.

To provide our customers with all options, Cyrco is also the authorized southeastern distributor for Amcot cooling towers. These light industrial counterflow cooling towers feature durable non-corrosive FRP construction with efficient heat transfer, operation, and low annualized operating costs.