New Cooling Towers: Field Erected & Metal Factory Assembled
Constructed with the Finest of Craftsmanship and Always Expertly Suited for the Application, Our Custom Cooling Towers are Extremely Reliable and Engineered for Maximum Thermal Performance.

Known for our 40 years of outstanding craftsmanship and quality built products, Cyrco, inc. offers a wide range of options for new, custom-designed cooling towers. Whether in need of a constructed field-erected (FEP) cooling tower or manufactured metal factory-assembled (FAP) cooling tower, in either a crossflow or counterflow configuration, our seasoned and professional engineering, sales, and construction teams will work directly with you. This assures our client's that a newly constructed cooling tower is completed in timely and transparent manner, while always exceeding expectations.
---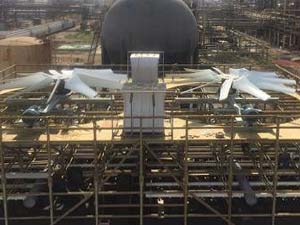 New Construction of Wooden or FRP Fiberglass Framed, Cross or Counter Flow Design, Cooling Towers
No matter the size or complexity, Cyrco offers the designing, engineering, and new construction of field erected cooling towers for an abundance of industrial applications. This includes an array of varying sizes, crossflow or counterflow configurations, and material options such as pressure-treated wood, FRP fiberglass, galvanized steel, or stainless steel. Our field erected cooling towers are engineered and customized for the client's exact purpose, structure location including reusing existing foundations if applicable, and overall specifications in order to achieve or exceed the client's expected thermal performance, plume abatement, and drift requirements. Tower framing options include Pultruded FRP Fiberglass, industrial grade ACC, pressure treated Douglas Fir or California Redwood. Cyrco also provides our clients with optional, in-house fabricated cooling tower parts, which saves our clients time and money. We assure all of our clients that no matter the complexity of the cooling tower design, your cooling tower will be engineered for maximum thermal performance, extreme durability, and always completed in a timely manner.
---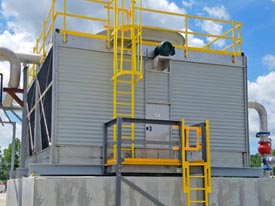 Cyrco's Custom Manufactured Metal Cooling Towers
Often you can't purchase the cooling tower you need for your specific application because of spacing requirements, poor water quality, chemical reactions, excessive suspended solids, surrounding airborne particulate matter, or extreme hot water temperatures. Cyrco offers solutions by custom engineering, manufacturing, and installing, splash or film fill, cooling towers that are engineered specifically for our client's application. We can even custom design a cooling tower to match the footprint of your existing cooling tower's foundation. The replacement installation would not require any changes to the steel grillage, water distribution system piping, bolt-down anchor locations, or other expensive components. This can save our clients a lot of time and money. Always willing to do what the larger manufacturers won't, Cyrco produces above standard results and products that are built to last.
In addition to our film fill cooling towers, Cyrco's XFS Splash Fill Series are specifically designed for heavy particulate applications such as rendering plants, steel mills, and a host of other industries that produces "dirty water" during their manufacturing process. In these conditions, film fill heat transfer media is inadequate as it quickly fouls, plugs, and clogs up resulting in sub-par thermal performance and added stress to mechanical parts, overall shortening the life-span of parts throughout the tower. Our splash fill cooling towers are adaptive to accommodate different material types and design-styles of splash media. We expertly selected the most ideal splash fill based on several factors which can include particulate size, particulate density, and water temperature. Splash fill heat transfer media is also far superior to film fill when above normal hot water temperatures, over 130° F, are present. Cyrco's XFS Splash Fills Series cooling towers have quickly gained a reputation for delivering impressive thermal performance, durability, and operational reliability in the harshest of environments and conditions.
---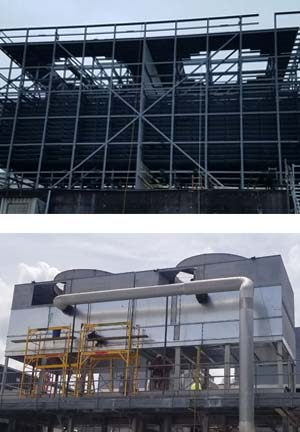 Reconstruction and Rebuild Services for both Field Erected (FEP) and Metal Factory Assembled (FAP) Cooling Towers
Cyrco, also if applicable, offers partial and complete rebuild services including direct replacement of individual cells, or expanding in overall size and thermal performance by increasing the number of cells, for any cooling tower manufacturer no matter the year of construction, nor make and model. Being an Authorized Reseller for many top cooling tower brand-name parts, along with our ability to custom metal fabricate any cooling tower part, enables us to reconstruct any cooling tower including SPX Marley, Baltimore Aircoil (BAC) / Pritchard Pacific, PSI, Evaptech, Evapco, and other cooling tower manufacturers. Our expertise, knowledge, craftsmanship, and over 40 years of experience, combined with utilizing today's most-advanced materials and products, assures you our reconstruction and rebuild services will result in your old cooling tower operating again at peak thermal performance and with many more years of reliable service.
---