Cooling Tower Inspections & Evaluations | Cyrco, inc.
Our Professional Staff Are All Extensively Trained to Thoroughly Inspect and Evaluate Factory-Assembled (FAP) and Field-Erected (FEP) Cooling Towers of Any Scale, Both Crossflow and Counterflow Configurations.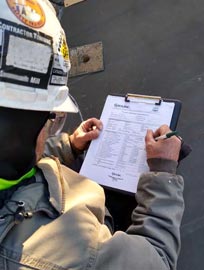 Cyrco offers no cost, no obligation, walk-down inspections for most factory-assembled or smaller field-erected towers, through complete level III comprehensive paid inspections of multi-cell field-erected towers. Our inspections are designed to assist in client bid preparations and material specifications.
Our standard evaluations include overall condition assessment of the cooling tower as well as the primary components within each fan cell. Tower or component deficiencies identified during the inspection are documented as to location, type, and severity of deficiency with following written reports inclusive of photographs, and recommendations for both near and long-term operational reliability. 
We can assist with determining the thermal efficiency of your tower by utilizing our thermal rating software. We can evaluate the cost benefit and payback for thermal upgrades as well as energy and water conservation.
These are typical inspection items:
Structural Famework & Assembly Evaluation
Thermal Efficiency Review
Water Distribution Efficiency 
Mechanical Efficiency and Mechanical Health
Heat Exchange Media Efficiency 
Vibration Analysis & Machine Health

Contact Us or call 1-800-424-6128 to schedule your inspection.  When requesting a quote or more information about inspections, please include your company name and your contact information to facilitate a timely response.
---
RELATED PRODUCTS:
---