OSHA 10-Hour and 30-Hour Construction Training,
and Basic Safety Training Classes | Cyrco, inc.
We at Cyrco, inc. promote a culture of safety. Through intensive OSHA training, incentives, hazard recognition, engineering controls, and close affiliations with many regional safety councils, Cyrco consistently retains one of the lowest OSHA Experience Modification Rating (EMR) throughout the entire cooling tower industry. We employ a full-time Safety Director, who is an OSHA Authorized Trainer, to keep our employees current with training, safety protocols, and safe on the job site.
---
OSHA Training and Safety Courses Offered by Cyrco, inc.: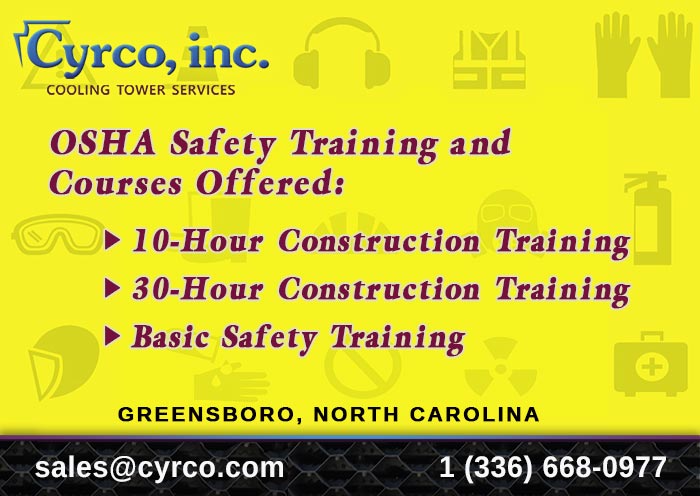 All OSHA and Safety Training Courses are conducted by Cyrco, inc.'s full-time Safety Director who is also an OSHA Authorized Trainer.  These courses provide interactive, hands-on training including physical demonstrations of approved equipment, proper use of PPE, and safe use of tools and machinery. Compared to online courses, our hands-on training course will provide a better learning experience for your employees with an improved information retention result.
Cyrco, inc. offers these immensely valuable OSHA and safety training courses to local businesses within the Greensboro, NC area and/or for our client's employees. Training classes can be conducted at our location or yours.
---
About the OSHA 10-Hour Construction Training Course
The OSHA 10-Hour Construction Training course is primarily intended for entry level workers. All outreach training covers an overview of the safety hazards a worker may encounter on the job site. Training emphasizes hazard identification, avoidance, control and prevention, not OSHA standards.
---
About the OSHA 30-Hour Construction Training Course
In response to new Contractor Guidelines requiring OSHA 30-Hour Construction Training for supervisors and competent person(s), Cyrco, inc. launched a quarterly OSHA Construction Safety Training Program.
The OSHA 30-Hour Construction Training course provides a more in-depth, advanced, and comprehensive safety training for workers and leaders within the construction industry. This course covers all major hazards that are commonly present on a construction site. This training will teach OSHA Construction standards and regulations, and cover more complicated and often confusing, elements of the OSHA Act (CFR 1926). Most importantly, OSHA training alerts your employees to recognize and prevent creating safety hazards, and how to address them before an accident occurs. This awareness and training further reduces risks, liabilities, and costly OSHA citations to the employer.
---
About the Basic Safety Training Courses
The following Safety Training Programs are available and comply with OSHA 29 CFR 1910 and OSHA CFR 1926.
Industrial Lift Trucks

Fork Lifts
Aerial Lifts
Articulating All-Terrain Lifts (Lull)
Scissor Lifts

PPE
Fall Protection Certification
Confined Space Certification
LockOut/TagOut/TryOut
Fire Safety
Hand Tools
Ladders and Scaffolding
Electrical & GFCI Safety
Respirator Protection Safety/Program
Bloodborne Pathogen Safety
Hazard Communication/SDS/Globally Harmonized Systems (GHS)
Welding & Cutting
Hearing Conservation Program
H2S (Hydrogen Sulfide) Safety Awareness
Emergency Response & Preparedness


---
If your company is in need of an OSHA training syllabus or assistance with any OSHA training requirements, please contact our Safety Director at (336) 668-0977 or through our Contact Us Form.
---