Stairways and Multi-Level Staircases | Cyrco, inc.
Custom 3D Design, Fabrication, and Installation of FRP Composite Plastic or Industrial Pressure Treated Lumber Stairways and Multi-Level Staircases. Custom Prefabricated (Pre-Fab) Stairways & Staircases Can Also Be Shipped Directly to Your Facility.
FRP (FIBERGLASS REINFORCED PLASTIC) MULTI-LEVEL STAIRCASES

PRESSURE TREATED LUMBER (INDUSTRIAL GRADE) MULTI-LEVEL STAIRCASES

Our professional sales, engineering, and construction teams can assist you with the design, fabrication, and installation of OSHA compliant: stairways, stair towers, multi-level staircases, ladder systems, FRP walkway platforms, catwalks, handrails, guardrails, safety swing gates, equipment cages, hatchway access doors, and more.
Keeping your facility safe is our top priority. Cyrco, inc. continuously maintains one of the lowest OSHA EMR ratings in the cooling tower industry and so we understand the value of safety including that of our client's employees. All of our stairway systems meet or exceed OSHA's Passive Fall Protection standards and are compliant in color, dimensions, structural materials, and methods of construction. Cyrco's products are always built with craftsmanship and quality parts assuring long term durability.
Stairways Material Options:
Non-Corrosive, Fiberglass Reinforced Composite Plastic (FRP)
Industrial-Grade, Pressure Treated Lumber
Benefits of FRP (Fiberglass Reinforced Composite Plastic) Stairways:
Light Weight, Yet Possess a High Load Bearing Capacity
Maintenance Free, Low Cost Life Cycle
Permanent Slip Resistance
Chemical, Corrosion, and UV Resistant
Non-Sparking, Non-Conductive, and Fire Retardant
Will Not Rust or Rot Like Metal or Wood
Lower Material Costs Than Metal Walkways
Easier and Quicker Installation Than Wood or Metal Walkways
Benefits of Pressure Treated Lumber (Industrial Grade) Stairways:
When Lumber Market Prices are Stable, Material Costs of Wood Can Be Significantly Less
Wood is Aesthetically Pleasing, Often Better Matching the Site's Environment
Non-Sparking and Non-Conductive
Insect and Decay Resistant
Long Life Span Unmaintained, Especially Long When Cleaned and Maintained
---
Custom 3D Designed to Your Facility, Prefabricated (Pre-Fab) Stairway & Staircase Kits Shipped to You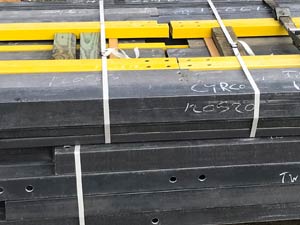 Custom 3D design and prefabrication (pre-fab) of stairways and multilevel staircases, ladder systems, and walkway platforms can also be shipped directly to your location. Cut to size, pre-drilled, categorized, and marked for easy assembly. Our pre-engineered staircase kits integrate seamlessly with handrails, guardrails, walkway platforms, access doors, and other products. These custom prefab products are not just limited to the cooling tower industry as we welcome the opportunity and business from other industries.
Ladders, safety swing gates, FRP tubing, landings and grating, pressure treated lumber, and related mounting hardware are always retained in stock at our Greensboro, NC, facility and are readily available for emergency repair or expedited shipping.
---
Did You Know?
OSHA states falls from heights are a leading cause of serious work-related injuries and deaths.
A properly constructed stairway system can greatly reduce this risk and liability.
Contact us today to update your site's safety measures.
---
RELATED PRODUCTS:
---