New Construction of Field Erected (FEP) Cooling Towers | Cyrco, inc.
We Design and Build Both Crossflow and Counterflow Field Erected (FEP) Cooling Towers for a Wide Range of Industries Including Steel & Mining Mills, Power Generation Plants, Oil & Petroluem Refineries, Paper, Pulp, Dried Goods, and Chemical Manufacturing Plants, and Much More.

For over 40 years, Cyrco, inc. has been known for it's craftsmanship and attention to detail. We construct cooling towers that are built for long-term durability and solid operational performance even in the harshest of conditions.
Cyrco's new field erected towers are engineered for the client's specific purpose(s), including designing for the site's location and use of materials that have a long-proven history. If applicable, on cooling tower rebuilds, the reusing the existing parts such as foundations, member structure framing, water distribution systems, electrical wiring, stairways and safety railings only further saves our clients time and money. Cyrco always meets or exceeds our client's expectations.
For new field erected cooling towers with FRP (fiberglass reinforced polyester) framing, all prefabricated material arrives on-site sorted, marked, and pre-drilled for faster assembly. The fact that Cyrco warehouses a large selection of cooling tower parts and fabricates many time-sensitive parts in house, results in us being extremely efficient. Our clients very much appreciate that Cyrco constructs and completes their cooling towers in a very thorough but timely manner.
Using quality USA made metals, Cyrco's fabricates cooling tower parts in-house including hot and cold water basins, fan torque tubes, mechanical equipment supports, and more. Cyrco is also an Authorized Reseller for a host of reputable OEM cooling tower parts manufacturers. These factors results in our clients saving time and money. Custom fabrication and manufacturing offers Cyrco's clients a wide range of possibilities including non-standard "packaged" cooling towers that often include limitations such as sizing and spacing restrictions. Having to wait upon OEM manufacturers or outside vendors to produce and deliver parts can cause long delays in a cooling tower construction process. Due to Cyrco warehousing and fabricating parts, these factors alleviate our dependency from OEM manufacturers or outside vendors, assuring our client's cooling tower is built in one continuous momentum.
Common Industries Served:
Power Generation
Renewable Energies: Biomass, Geothermal, etc.
Oil & Petroleum: Ethanol, Refineries, & Chemical
Food, Beverage, Meat, and Product Manufacturing
Steel Mills, Paper & Pulp
---
Cyrco's Commitment to Keeping Abreast with Today's Cooling Tower Advancements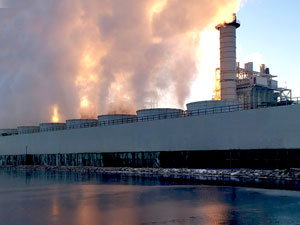 The new construction industry for field erected cooling towers is a somewhat limited but extremely competitive market. The companies most in demand for new field erected cooling towers are commonly oil and petroleum refineries, chemical factories, steel rendering plants, manufacturing processing facilities, thermal stations, and energy power plants. With the explosive population growth in recent decades and the trends in rising energy demands from the average consumer, the need for more energy power plants has never been greater. This current multi-billion dollar field erected cooling tower industry is expected to grow more than 50% in the next five years.
Since 1980, Cyrco, Inc. has been on the cutting-edge of the cooling tower industry and is poised for this extensive growth. As with any successful business that has been in an industry for more than four decades, a company must adapt and keep abreast with current practices and industry advancements. Cyrco has and continues to expand and further develop in-house fabrication capabilities; implement continuous training for our engineering, sales, and installation teams; updating and appling the latest technology and computer automated software; only installing time-proven and advanced materials and parts; and remaining educated with the Cooling Tower Institute (CTI) standards.
Being pro-active and revolutionary in the cooling tower industry, Cyrco has even modernized and improved some of today's standard practices in the area of FRP fiberglass cooling tower structural framing. Cyrco developed and manufactures a FRP Square Tube Shear Bushing that doubles the 3.0 shear service factor Cooling Tower Institute (CTI) standard.
In addition to our continuous advancements, we offer competitive pricing, optional solutions, superior customer service, and products built with the finest of craftsmanship. Cyrco provides our clients with a solid foundation and a clear direction before any construction even begins, which is always fundamental prior to starting any successful project. All of these combined capabilities make Cyrco extremely versatile and unmatched in today's cooling tower industry.
---
Cyrco Constructs New Crossflow and Counterflow Field Erected Cooling Towers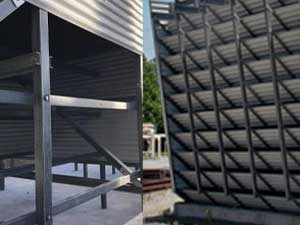 Cyrco offers new construction of both crossflow (air is pulled upwards through the fill media) and counterflow (air is pulled in through the sides of the fill media) field erected cooling towers. With counterflow cooling tower designs, they usually require less physical space, however more energy is required to pump water through the distribution system. Crossflow cooling towers tend to require less energy to operate the water distribution system, but do require more physical space and a larger fan operation to maximize the heat transfer process. Our engineering department with the aide of today's advanced computer software, can determine how much natural or forced air circulation will be required in order to achieve peak efficiency for the cooling tower.
---
Fiberglass Reinforced Polyester/Plastics (FRP) Structured Field Erected Cooling Towers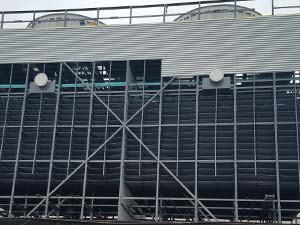 One of the advancements in today's construction of field erected cooling towers is the use of pultruded FRP fiberglass square tubing for structural tower framing. Pultruded FRP framed towers are lighter and cheaper than steel and unlike traditional wooden framed towers, they will not rot or decay, even after years of direct contact with water. FRP materials are non-conductive, dielectric, fire resistance, impervious to insects, and tolerant to a wide range of corrosive envirnoments.
Over the last few decades, pultruded FRP fiberglass tubing has drastically improved as the composite materials, resins, and ratios have only made the structural integrity stronger and more durable. Compared to wooden framed cooling towers, the benefits of FRP fiberglass framing appear to outweigh wooden framing.
The lighter mass weight of FRP fiberglass also costs less to ship compared to wood, and is not even comparable to the expensive freight shipping of heavy steel.
One of the slight disadvantages of FRP framing is that the material is slightly flexible and more susceptible to excessive winds and storm damage, especially over time. Flexing causes movement and bolt friction to the hole in the FRP fiberglass tube. With back and forth movement, over time the bolt hole size slowly increases at a more rapid pace. This is especially true where contact is made with the bolt's threading that acts like a metal steel file on plastic fiberglass. Mechanical induced vibration can cause threading hole wear as well. Eventually with continuous vibration, or movement and flexing, the cooling tower becomes more prone to a structural collapse.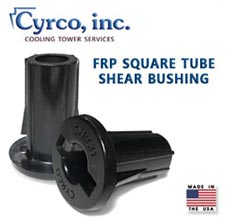 Cyrco developed, patented, and manufactures a FRP Square Tube Shear Bushing that fully encloses the bolt which then overcomes the FRP fiberglass hole wear caused by bolt friction. In addition to preventing FRP hole wear, Cyrco's FRP Shear Bushing mate in the middle which stops the operator from over torquing the bolts and prevents stress cracking to the FRP fiberglass tube. Another advantage of our mating bushings is that the tubular connections act as a guide for the bolts, making for a much faster assembly.
Results from a series of independent testing performed by the Joint School of Nanoscience and Nanoengeering of North Carolina, outlined that Cyrco's FRP Shear Bushings clearly outperformed all other commonly used FRP shear bushings. Cyrco's FRP Shear Bushings created a tower shear service factor of 6.0, which is twice the Cooling Tower Institute (CTI) recommended standard.
In all FRP framing applications, but especially in high wind geographic locations such as coastal plains where hurricanes and tropical storms are frequent, Cyrco strongly recommends the use of our FRP Shear Bushings.  With the use of Cyrco's FRP Shear Bushings, today's FRP cooling tower's framing can now become capable of withstanding a Category 6 hurricane.
For every field erected cooling tower Cyrco constructs utilizing FRP fiberglass member structure framing, we install our patented FRP Square Tube Shear Bushing.
---
Wooden Framed Field Erected Cooling Towers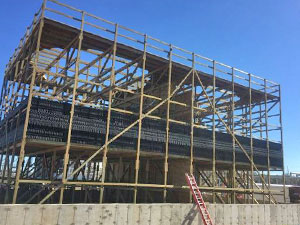 Traditional wooden framed field erected cooling towers still have a practical application in today's market of newly constructed cooling towers. Wooden framed cooling towers are the lowest cost to construct, even in times when lumber prices are considerably high. Cyrco, inc. uses industrial-grade acid copper chromate (ACC) pressure treated Douglas Fir or Redwood lumber for all wooden cooling tower construction.
In high moisture areas and/or areas of direct water contact, the wooden framing eventually becomes susceptible to rot and decay and will need some repair or replacement. Wooden framed towers are much easier for a qualified technician to maintain and inspect as they can physically see and/or with the use of hand tools, probe and detect areas of decay and rot. This is one advantage over FRP framing for with FRP framing, the tasks of identifying areas of weakness can be extremely difficult as the signs are not always clearly evident, especially if the deterioration of the fiberglass is inside the FRP tubing.
---
Maintenance
Our field erected cooling towers are built to offer optimal thermal performance, durability, and years of operation with little to no maintenance, however as with all mechanical equipment, to achieve the best performance and longevity of your cooling tower, we offer annual and bi-annual inspections and mechanical service plans. This service assist our clients with planning, budget forecasting, and scheduling mechanical replacement prior to an equipment failure and a forced or unscheduled shut down. This is a cost effective solution for assurance that your cooling tower continues operating at peak performance and with the benefit of extending years of additional use from your newly constructed cooling tower.
---