Cooling Tower Fan Deck Hatchway Access Doors | Cyrco, inc.
Custom Field Erected Cooling Tower Fan Deck Hatchway Doors With Ladder Access To The Drift Eliminator Platform Landing. Prefabricated (Pre-Fab) Shipping Available.

Cyrco, inc. furnishes and installs (or ships) custom field erected cooling tower fan deck hatchway access doors, the FRP ladder system, and the drift eliminator FRP landing platforms. Our fan deck hatch door systems provide safe and easy passage from the exterior fan decking to the internal drift eliminator landing in order to perform repairs, maintenance, and routine inspections.
Our fiberglass hatch doors are highly visible and are built to last, even after years of extreme exposure in harsh weather conditions. Our fiberglass reinforced plastic (FRP) ladder systems are exceptionally sturdy and can be sized to any length. 3D designed, our drift eliminator FRP landing platforms are custom constructed to your cooling tower site's floor plan. In addition to being impervious to decay and insects, these FRP grating platforms and walkways offer a non-slip, maintenance-free surface that is notably tough and durable.
Our fan deck hatchways, vertical access doors, ladder systems, landing platforms, walkways, and handrails are always OSHA compliant in color, dimensions, structural materials, and methods of construction. Cyrco, inc. has become industry-renown for quality materials and craftsmanship products, assuring our clients long term operational reliability.
---
Prefabricated (Pre-Fab) Fan Deck Hatchway Door Systems Custom 3D Designed to Your Facility and Shipped to You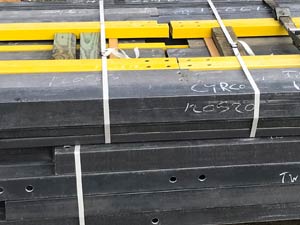 Custom 3D design and prefabrication (pre-fab) of hatchway doors, vertical access doors, ladder systems, stairways, and walkway platforms can also be shipped to your location. Cut to size, pre-drilled, categorized, and marked for easy assembly. Our pre-engineered ladder systems integrate seamlessly with handrails, guardrails, walkway platforms, access doors, and other products. These custom prefab products are not just limited to the cooling tower industry as we welcome the opportunity and business from other industries.
Ladders, safety swing gates, FRP tubing, landings and grating, pressure treated lumber, and related mounting hardware are always retained in stock at our Greensboro, NC, facility and are readily available for emergency repair or expedited shipping.
---
Did You Know?
According to OSHA, falls from heights are a leading cause of serious work-related injuries and deaths.
A properly constructed ladder system can greatly reduce this risk and liability.
---
RELATED PRODUCTS:
---