Fan Decking Repair & Reconstruction | Cyrco, inc.
Cyrco provides a wide range of services for cooling tower fan decking including new construction, reconstruction, or repairs. We can safely and efficiently repair or reconstruct the deteriorated fan decking on your crossflow or counterflow cooling tower utilizing either non-corrosive, non-skid, pultruded fiberglass interlocking panels or 1-1/8" acid copper chromate (ACC) pressure-treated, industrial grade, tongue and groove, Douglas Fir plywood. New 1-1/2" x 6" tongue-and-groove Redwood decking is also available upon request.
Cyrco can also provide replacement fan decking for field-erected steel structure cooling towers as well as factory assembled cooling towers. Decking materials and support joists provided may be of either G-235 galvanized steel or stainless steel.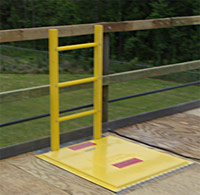 Cyrco furnishes and installs fan deck hatch doors and access ladders from the deck down to the drift eliminator landing. We also specialize in updating your site's safety measures, including options for railings, stair cases, stair towers, and landing platforms.