Fan Decking Repair & Reconstruction Services | Cyrco, inc.
Professional FRP Fiberglass Panels, Industrial-Grade Pressure Treated Wood Plank or Plywood, Fan Decking Repair and Reconstruction Services
---
Decayed, deteriorated, moss or vegetation covered fan decking can shorten the life span of the cooling tower and jeopardizes the safety of employees, placing an enormous liability risk on the employer. For both counter flow and cross flow field erected cooling towers, Cyrco, inc. provides sections repairs or complete reconstruction services for deteriorated fan decking.
Cyrco, inc. only utilizes the latest, most-advanced, high-quality materials that not only offer robust longevity, but also rapid design and assembly. Our well trained, professional field technicians and project managers furnish our clients with craftsmanship built products performed in the utmost safest and most efficient manner. All of these factors result in minimal to no production down time, and a finished product built to well outperform the original design.
Material Options for Field Erected (FEP) Fan Decking Repair and Replacement Include:
Pultruded Fiberglass Reinforced Plastic (FRP) Interlocking Panels (Non-corrosive and Non-skid)
1-1/8" Acid Copper Chromate (ACC) Pressure Treated, Industrial-Grade, Tongue and Groove Douglas Fir Plywood
1-1/2" x 6" Tongue-and-Groove Redwood Planks (Upon Special Request)
With recent advancements in fiberglass reinforced plastics (FRP) and polyester composites, today's FRP components are becoming an ideal choice material throughout many industries, including cooling towers. FRP products offer a host of benefits including: rapid installation/reduced field labor costs, gritted non-skid surfaces, light in mass weight, easy to maintain, fire retardant, non-conductive, UV protection, impervious to insects, and decay-proof. This is not to say, industrial-grade pressure treated plywood or tongue and groove boarding is not an applicable choice material for a modern cooling tower's fan decking. Contact us today to discuss how we can assist you and which options will best serve your needs.
---
Fan Decking Hatch Doors, Access Ladders, Stairways, and Landings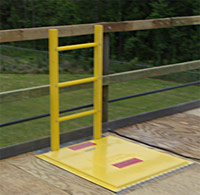 Cyrco custom 3D designs, furnishes, and installs or ships fan deck hatch doors, access FRP ladders, and FRP drift eliminator platform landings. Our fan deck hatch door systems allows employees safe and easy passage from the exterior fan decking to the internal drift eliminator allowing for repairs, maintenance, and routine inspections.
We also specialize in updating your site's safety measures in compliance to OSHA code as keeping your facility safe is our top priority. Cyrco continuously maintains one of the lowest OSHA EMR ratings in the cooling tower industry and so we understand the value of safety including that of our client's employees. Our replacement fan decking, and stairway ladder systems are guaranteed to meet or exceed all OSHA regulations. Our safety swing gates, handrails, stair rails, guardrails, fan deck hatchway and access doors are all OSHA compliant in color, dimensions, structural materials, and methods of construction.
---
Metal Factory Assembled (FAP) Cooling Tower Fan Decking Replacement

Cyrco also metal fabricates replacement fan decking for metal factory assembled cooling towers or field-erected steel structured cooling towers. As expert metal fabricators, we can custom fabricate any cooling tower flooring or side wall paneling no matter the make, model, or year of manufacture. Utilizing heavier gauged, USA made, G-235 galvanized or stainless steel metals, we always meet or exceed OEM manufacturer specifications. Fabricated to outlast the original design, all of our drop in replacement flooring and side wall panels are precisely sized and complete with aligning fastener locations. These replacement fan decks and wall panels can be install by qualified Cyrco field technicians or shipped to your location.
---
RELATED PRODUCTS:
---