Cyrco's Fiberglass Reinforced Plastic (FRP) Square Tube Shear Bushings
Creates a Shear Service Factor of 6.0, twice the Cooling Tower Institute's (CTI) recommended standard; withstands a Category 6 Hurricane.*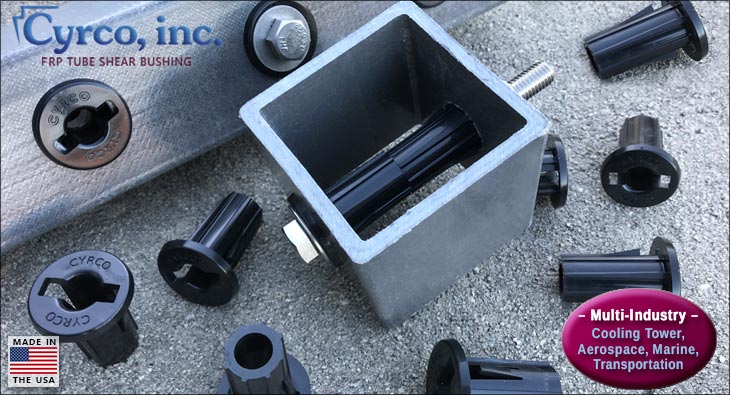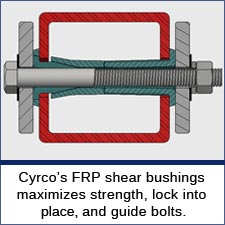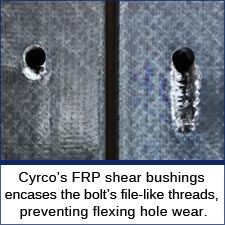 Maximizes load-bearing strength of cooling tower fiberglass reinforced plastic / polymer (FRP) composite structure; capable of withstanding a Category 6 Hurricane.*
Out-performs all other competitors in independent, laboratory tests*
Creates a 6.0 Shear Service Factor which doubles the minimum 3.0 Cooling Tower Institute (CTI) standard
Encases the bolt's file-like threading, preventing FRP hole wear which can be a main cause for FRP structural failure especially over time with wind and vibration movement that increases hole size more rapidly
The two ends meet in the middle (mates) which doubles the torque safety factor, immensely reducing FRP cracked tubing from over torqued bolts
Locks into place and guides the bolt for faster assembly
Available in three commonly used sizes: 1/2" bolt 3.5" tube, 1/2" bolt 3" tube, and 3/8" bolt 3" tube
Designed, developed, and manufactured by Cyrco; patented
Made in the U.S.A. of quality polymer
Pre-installation available through major FRP cooling tower retailers
Beneficial to any industry utilizing square tube FRP fiberglass composites
*Joint School of Nanoscience and Nanoengineering of North Carolina A&T State University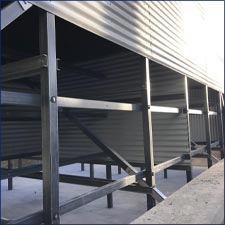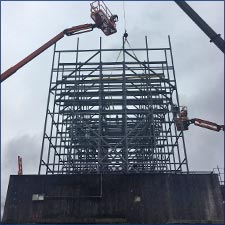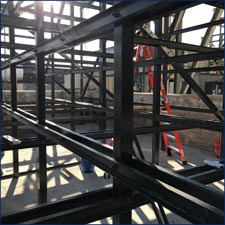 Like many engineering and structural industries, one of the major advancements in today's construction of cooling tower framing is the use of polymer composites also known as fiberglass reinforced polymer (FRP) square tubes. Pultruded FRP fiberglass structure members are lighter and cheaper than steel and unlike traditional wooden framed towers, they are unaffected by moisture, even after decades of exposure and direct contact with water.
A slight disadvantage of FRP framing is that the composite material is somewhat flexible making the material more susceptible to structural collapse, especially over time in strong wind and storm areas such as coastal plains. Flexing causes movement and bolt friction to the drilled hole in the FRP fiberglass. With back and forth flexing movement, over time the bolt hole size slowly increases and the bigger the hole increases, the more rapid the pace is. This is especially true where contact is made with the bolt's threading that now acts like a metal file on plastic fiberglass. Vibrations from running motors or other moving mechanical equipment can also cause hole wear in the FRP tubing. Eventually with continuous movement and flexing the cooling tower becomes more prone to a structural collapse.
Cyrco developed, patented, and manufactures a FRP Shear Bushing that fully encloses the bolt which then overcomes the FRP fiberglass bolt thread hole wear caused by continous flexing of the fiberglass members under wind or vibration conditions. In addition to preventing FRP hole wear, Cyrco's FRP Shear Bushing mate in the middle which stops the operator from over torquing the bolts and prevents stress cracking to the FRP fiberglass. The joined mating also prevents under-tighted, loose nuts that might eventually unthread off, for the installer essentially stops when the nut can tighten no further, resulting in the nut and bolt just being tightened to an ideal torque range. Another advantage of our mating bushings is that the tubular connections act as a guide for the bolts, making for a much faster assembly.
Results from a series of independent testing performed by the Joint School of Nanoscience and Nanoengeering of North Carolina, outlined that Cyrco's FRP Shear Bushings clearly outperformed all other commonly used FRP shear bushings. Cyrco's FRP Shear Bushings created a tower shear service factor of 6.0, which is twice the Cooling Tower Institute (CTI) recommended standard.
In all FRP member framing applications, but especially in high wind geographic locations such as coastal plains where hurricanes and tropical storms are frequent, Cyrco strongly recommends the use of our FRP Shear Bushings. With the use of Cyrco's FRP Shear Bushings, today's FRP cooling tower's framing can now become capable of withstanding a Category 6 hurricane.
---
With FRP fiberglass composite materials becoming ever so more present in a wide array of
everyday engineering and structural industries, Cyrco's FRP square tube shear bushings
are not just limited or beneficial to the cooling tower industry.
---
Manufacturer-direct; pricing also available for retailers and wholesalers