Stair Cases, Stair Towers, Ladders, & Landings | Cyrco, Inc.
Custom Design and Installation Services for Cooling Tower Landings, Railings, Safety Cages, Multi-Level Stair Cases, and Caged Stair Towers. In-stock Items Also Available for Fast Shipping.

Our engineering and sales staff can assist you with the design of mechanical service platforms, railings, landings, walkways, stair towers, safety cages, or even the installation of new fan-stack access doors to allow your personnel to safely get to where they need to be.
Material options: non-corrosive pultruded fiberglass (FRP), stainless steel, hot-dipped galvanized steel, or industrial-grade, ACC pressure-treated lumber.
Ladders, safety cages, and grating are retained in stock at our Greensboro, NC, facility and are available for fast shipping.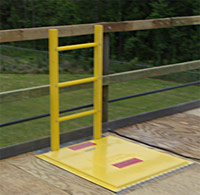 Cyrco also furnishes and installs fan deck hatch doors and access ladders from the deck down to the drift eliminator landing.