Staircases, Stair Towers, Ladders, & Landings | Cyrco, inc.
Custom Design and Installation Services for Multi-Level Staircases, Escape Ladders, Ladder Systems, Landings and Cat Walks, Safety Railings, and Cages. In-stock Items Also Available for Expedited Emergency Repair Shipping.

Our engineering and sales staff can assist you with the design and installation of multi-level staircases, ladder systems, escaped ladders, landings and platforms, safety railings, cat walks, safety cages, fan stack access doors, fan deck hatchway doors, and more.
Material options: non-corrosive pultruded fiberglass reinforced plastic (FRP), stainless steel, hot-dipped galvanized steel, or industrial-grade, ACC pressure-treated lumber.
Keeping your facility safe is our top priority. Cyrco, inc. continuously maintains one of the lowest OSHA EMR ratings in the cooling tower industry and so we understand the value of safety including that of our client's employees. Our stair systems are guaranteed to meet or exceed all OSHA regulations. Our safety swing gates, handrails, stair rails, guardrails, fan deck hatchway and access doors are all OSHA compliant in color, dimensions, structural materials, and methods of construction. Built with craftsmanship for long term durability, our stair systems and platforms save our client's time and money while updating your site's safety measures.
---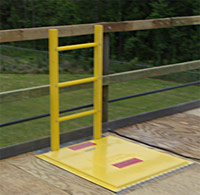 Cyrco, inc. also furnishes and installs fan deck hatch doors and access ladders from the deck down to the drift eliminator landing.
---
Ladders, safety cages, landings/grating, pressure treated lumber, and FRP fiberglass materials are always retained in stock at our Greensboro, NC, facility and are available for emergency 24 hour repair or for expidited shipping.