Fan Deck Hatchways & Access Doors | Cyrco, inc.
Fan Decking Hatchway Doors with FRP Ladders to the Drift Eliminator Landing. Custom 3D Design, Fabrication, and Installation of Hatchway and Access Doors, Ladder Systems, and FRP Walkway Platforms. Custom Prefabricated (Pre-Fab) Access Door Kits Can Also Be Shipped Directly to Your Facility.

Cyrco, inc. furnishes and installs field erected cooling tower fan deck hatchway access doors and FRP ladder systems from the external fan decking down to the internal drift eliminator landing. FRP ladders can be sized to any length and drift eliminator FRP walkway platforms custom fabricated to any configuration.
Our cooling tower, commercial, and industrial vertical access doors can be custom metal fabricated to various sizes, unique heights and widths, virtually any size or shape, and with mortises cut for an exact fit to the mounting hardware. Our metal fabricated access doors will always meet or exceed OEM specifications including the use of above industry-standard, heavy gauged, USA made metals. Our custom metal doors can be custom engineered for fit of existing doorway openings or other unique site requirements, and are assured to be compatible with your site's stairways, ladder systems, and walkways. We often fabricate metal replacement doors for other OEM manufacturer's factory assembled cooling towers. Our doors can be designed to increase functionality, security, safety, or a combination of all of these features.
Our installed hatchway and access doors, ladder systems, walkway platforms, handrails, and stair rails are all OSHA compliant in color, dimensions, structural materials, and methods of construction. Cyrco's products are always built with craftsmanship and quality parts assuring long term durability.
---
Custom 3D Designed to Your Facility, Prefabricated (Pre-Fab) Access Door Kits Shipped to You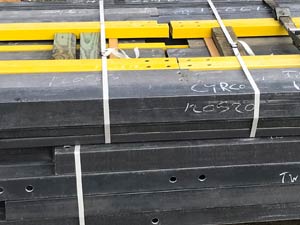 Custom 3D design and prefabrication (pre-fab) of access door ways, hatchway doors, ladder systems, stairway, and walkway platforms can also be shipped to your location. Cut to size, pre-drilled, categorized, and marked for easy assembly. Our pre-engineered ladder systems integrate seamlessly with handrails, guardrails, walkway platforms, access doors, and other products. These custom prefab products are not just limited to the cooling tower industry as we welcome the opportunity and business from other industries.
Ladders, safety swing gates, FRP tubing, landings and grating, pressure treated lumber, and related mounting hardware are always retained in stock at our Greensboro, NC, facility and are readily available for emergency repair or expedited shipping.
---
Did You Know?
According to OSHA, falls from heights are a leading cause of serious work-related injuries and deaths.
A properly constructed ladder system can greatly reduce this risk and liability.
Contact us today to update your site's safety measures.
---
RELATED PRODUCTS:
---