Cyrco's Cooling Tower Vacuum Cleaning Services Increases Performance, Efficiency, and Longevity. Our Disinfectant Services Kills Bacteria and Viruses

Algae, Scale, Mud, or Other Contaminants Fouling Your Cooling Tower's Drift Eliminators or Fill Media?
Our powerful, industrial vacuum cleaning services unfouls heat exchangers and chillers, which increases the cooling tower's efficiency, performance, and overall life-span. Less strain on your cooling tower system also results in lower energy costs.
As an additional option, Cyrco can provide a disinfectant cleaning service that kills bacteria and viruses including Legionnaires' disease and SARS-CoV-2, the virus that causes COVID-19. The disinfectant kills 99.9% of Legionella pneumophila when applied on hard, nonporous surfaces, like cooling towers. By keeping your system clean it will reduce the nutrients available for Legionella growth. Drift (small water droplets) from a contaminated cooling tower can carry Legionella and other bacteria as far as 2 miles from your facility! The bacteria can then enter and infect the lungs of unsuspecting people.
Our cooling tower disinfects kills microorganisms even on non-porous surfaces, is 100% biodegradable surfactant, and EPA registered. This disinfectant cleaning service is ideal for hospitals, universities and schools, shopping malls, corporate office buildings, and industrial manufacturing plants.
For applications where dirty waste water is fouling and causing the cooling tower to operate at less than ideal conditions, Cyrco offers a small-micron filtration cleaning service that will return the dirties of waters to crystal clear, clean water. This advanced filtration cleaning system will remove contaminants down to 5 microns.
Regular scheduled maintenance practices ensures an efficient, long lasting, and a more safe operating cooling tower.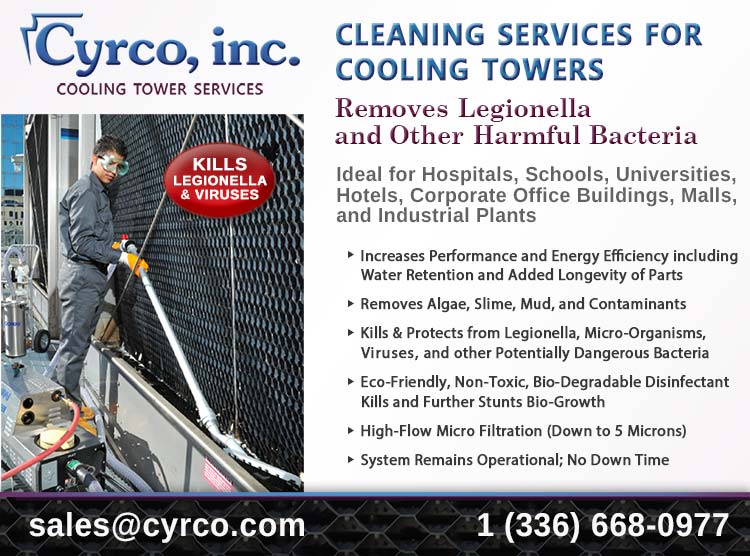 Better Performance and Efficiency of Your Cooling Tower as Unfouls Heat Exchangers and Chillers
Adds Longevity and Saves Water
Kills & Protects from Legionella, Micro-Organisms, Viruses, and other Bacteria
Low Pressure Wash, Disinfectant Lasts Up to 3 Months
High-Flow Micro Filtration (Down to 5 Microns)
Safe on Wood, Fiberglass, and Metal
Eco-Friendly, Non-Toxic, Bio-Degradable, and Sewer-Safe
Removes Algae, Slime, Mud, and Contaminants
Stunts Further Bio-Growth Extending Wood Tower Life
System Remains Operational During Cleaning; No Down Time!