Cooling Tower Gearboxes: Amarillo Right Angle Gear Drives and Rebuilt SPX Marley Geareducers | Cyrco, inc.
Cyrco, inc. is an Amarillo Gear Company Authorized Reseller and We Also Supply Warrantied Rebuilt SPX Marley Geareducers


---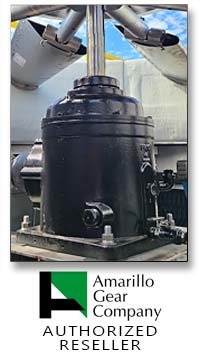 A cooling tower gearbox is often referred to as the "heart of the cooling tower" as the internal components of a cooling tower can be just as important, or sometimes even more important, than the overall design. That's why Cyrco, inc. installs or distributes only long proven, cooling tower parts from reputable, world renown manufacturers. Amarillo Right Angle Gear Drives and rebuilt SPX Marley Geareducers are both built with quality workmanship and possess more than a 70 year history of exceptionally reliable products.
The Amarillo Gear Company has been manufacturing double and single reduction drives since 1934. They are an ISO quality certified company and offer a wide selection of well engineered, extremely efficient, and purpose-driven designed gearboxes. Based on input RPM speed, the fan's diameter, required fan RPM speed, minimum service horsepower, thrust, and thermal ratings, Cyrco, inc. can expertly select the most ideal gearbox for your field erected or metal factory assembled cooling tower.
Features of Amarillo Right Angle Gear Drives:
All Amarillo gear drives are designed in accordance with, or exceeds, the American Gear Manufacturers Association (AGMA) and the Cooling Tower Institute (CTI) standards
Castings are constructed to absorb internal and external loads with minimum deflection
Cases and covers are constructed to assure permanent alignment of bearings and gears while under load
Formed in place gasket material that prevents "weeping" commonly found on other gearboxes with fiber-type gaskets
Spiral bevel gears that are precision machined from high grade alloy steel, case hardened and lapped in pairs
Helical gears precision machined from high grade alloy steel, and case hardened to provide low noise and vibration during operation
Outstanding input and intermediate bearing life, expected to exceed 100,000 hours, doubling the standard service life specified by AGMA and CTI
Over-sized input shaft slinger that provides excellent lubrication no matter the direction or speed
Amarillo's "A" Series Right Angle Gear Drives are direct, drop-in replacements for SPX Marley cooling towers with no pitch adjustments required
Low maintenance costs; mechanically designed for easy inspection and routine service
Additional Optional Features: special output shaft extensions, backstops (anti-windmilling), low speed options (450 rpm or less with no minimum input speed restriction), level switches, oil heaters and thermostats, oil temperature gauges, and spot-face/drill and tap for vibration transducers
---
Cyrco, inc. furnishes complete replacement retrofit kits for converting antiquated or difficult to locate Philadelphia, Hub City and Sumitomo speed reducers. We also offer installation or delivery, to replace Philadelphia, Western, Westec, Textron, and Sumitomo gearboxes with new, readily available, Amarillo gearboxes.
Cyrco, inc. warehouses a wide selection of cooling tower parts including rebuilt SPX Marley Geareducers and Amarillo single and double reduction gearboxes. Many commonly used gearboxe models are always retained in stock, but also, many of those often hard-to-find, rare gearbox models too. We are widely known for our fast response times, as we provide our clients with emergency installation and/or expedited shipping to minimize production down time. All cooling tower gearboxes are covered by an at minimum 1 year warranty.
As always, it is best to have a annual service plan to perform routine maintenance that will greatly reduce unexpected shut downs and costly expedited shipping and emergency service repairs. Keep you gearbox running at peak performance and maximize its longevity, contact us today to see how we can help you.
---
RELATED PRODUCTS:
---