Cyrco's XFS Splash Series Cooling Towers
Stainless Steel Cooling Towers Designed for Durability, Thermal Performance, and Reliability in the Harshest of Conditions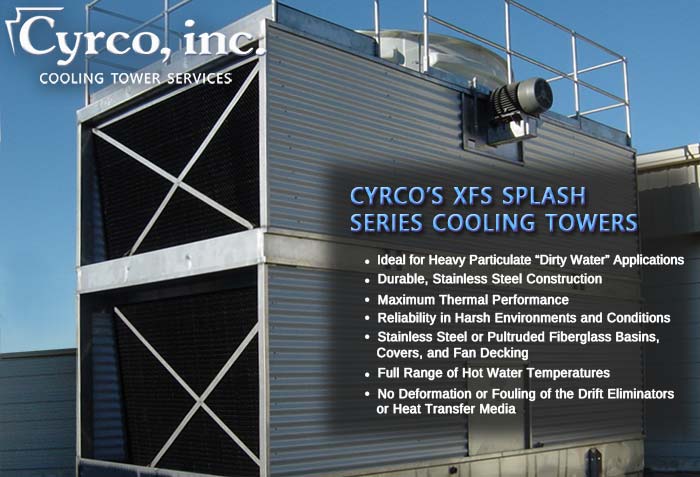 Cyrco's XFS Splash Series cooling towers were designed to meet the unique requirements of several of our clients with dirty water applications where film fills would quickly plug and foul. Our XFS-Splash Series cooling towers may be configured with several different types of splash media to accomodate entering water temperatures well above 130° F, high levels of airborne particulates as well as excessive total suspended solids within the process flow. Our XFS Splash Series cooling towers have quickly gained a reputation for delivering impressive thermal performance, durability, and operational reliability. These units are ideal for rendering plants, steel mills, refineries, and any application with less than perfect conditions.
Cyrco's Splash Series cooling towers are designed to withstand the harshest environments. Constructed of either 304 or 316 stainless steel framework with non-corrosive, non-skid, pultruded fiberglass distribution basins, basin covers and fan decking. Heat deformation or fouling of the heat transfer media or drift eliminators is no longer a concern.
Utilizing the newest thermal performance and 3D design software, we can produce single or multi-cell cross flow arrangements for your severe duty application.
Units may be equipped with the following types of media, though we can and have designed for many other types of splash fill.
Turbo-Splash
Brentwood Industries Hybrid Splash
Opti-Lath
Opti-Bar
Gull Wind
V-Bar
PVC Lath
Others