Fan Deck Replacement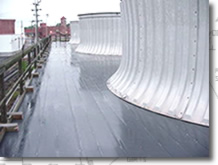 Utilizing either non-corrosive, non-skid, pultruded fiberglass interlocking panels or tonque and groove 1 1/8" West Coast ACC pressure-treated Douglas fir plywood, Cyrco can safely and efficiently repair or replace the deteriorated fan decking on your crossflow or counterflow cooling tower. New 1 1/2" x 6" tongue-and-groove Redwood decking also is available upon request.
Cyrco can also provide replacement fan decking for field-erected steel structure cooling towers as well as factory assembled cooling towers. Decking materials and support joists provided may be of either G-235 galvanized steel or stainless steel.